Construction interpretation services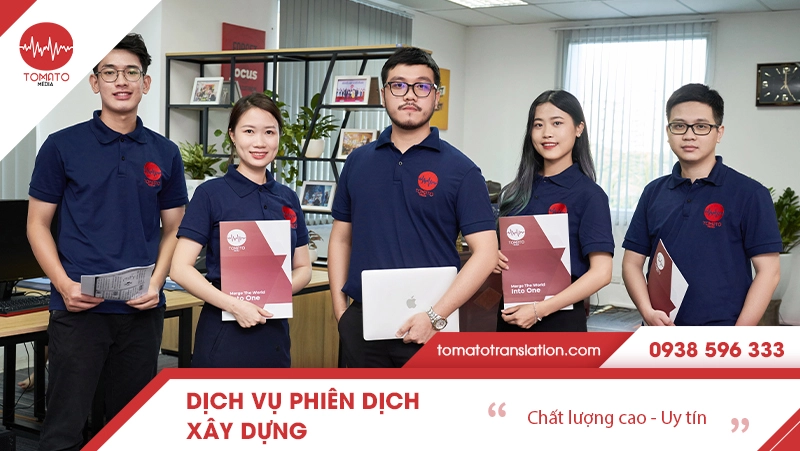 Construction interpretation services at Tomato – Quality – Prestige
📗 Professional and experienced interpreters
📗 Non-disclosure agreement for information security commitment
📗 Provision of interpreters by the day nationwide
📗 Interpretation services in over 50 languages
📗 Preferential pricing policy for the construction industry
Tomato Translation provides highly qualified interpreters for the construction field
Tomato Translation is pleased to offer customers high-quality interpretation services for the construction field. We are proud to be one of the leaders in the field of providing language solutions that can satisfy even the most demanding customers.
1) Tomato provides simultaneous interpretation services for the construction field
Tomato is pleased to offer high-quality construction cabin interpreter service, made by experienced and professional interpreters. Some of the event topics we usually interpret include:
Workshop on the digital transformation of the construction industry
Workshop with stakeholders on construction manpower
Workshop on trends in new construction materials
Seminars for promotion of the transformation of the construction industry
Conferences on assessing the situation and proposing solutions for the construction industry
Bidding for construction projects with the participation of foreign bidders
Bidding for construction materials with foreign bidders
Construction industry project photo exhibition
Conference on construction bidding
etc.
In order to provide a full package of interpretation services to customers, in addition to providing interpreters, Tomato also rents equipment for simultaneous interpretation sessions, such as transmitters, microphones for interpreters, signal receivers for delegates, headsets for delegates, etc.
2) Tomato provides consecutive interpretation services for the construction industry
Interpretation for internal meetings in the company with the participation of foreigners
Interpretation for construction personnel training sessions
Interpretation of meetings for the quarterly and yearly income statements
Interpretation for project summary meetings
Interpretation for meetings on new project implementation strategy
Interpretation for meetings on personnel reconstruction in construction companies
Interpretation for negotiations on contracts for construction projects and the purchase and sale of construction materials
Interpretation for seminars in the construction industry
Interpretation for small and medium-sized conferences in the construction industry, etc.
3) Tomato provides relay interpretation services for the construction industry
International construction forum conference
Workshop on construction materials
Workshop on construction personnel
Conference on civil engineering in the 4.0 era
Launching and grand opening ceremony of new construction projects
Periodic meetings to review construction work
etc.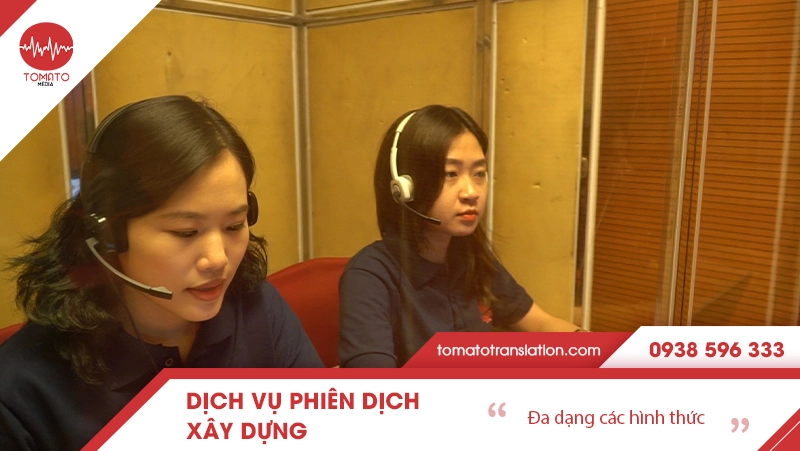 4) Tomato provides whispered interpretation services for the construction industry
Whispered interpretation for internal meetings with the participation of foreign partners
Interpretation for negotiations for the contract signing of construction investment projects
Whispered interpretation for construction site visits
Expo, Fairs
etc.
5) Tomato provides online (remote) interpretation services for the construction industry
Tomato offers top-notch online interpretation services to satisfy the requirements of all customers in Vietnam and around the world. Accordingly, interpretation sessions are conducted through online meeting tools such as Zalo, Zoom, Google Meet, Skype, etc. with stable internet to ensure uninterrupted interpretation sessions.
Tomato provides construction interpreters at every location
Tomato can fulfill the needs regardless of where the interpretation session is held. Besides, if the project requires long-distance travel, our interpreters are always ready to go on business trips for interpretation support. Construction interpretation projects often take place in places such as:
Direct interpretation in offices and meeting rooms
Interpretation at construction event venues (seminars, conferences, and meetings taking place at hotels, resorts, etc.)
Accompanying interpretation at construction sites
Remote interpretation through Zalo, Zoom, Google Meet, Skype, etc.
Tomato provides all construction translation services
In addition to interpretation services for the construction field, Tomato also offers other types of translation, such as:
Translation of documents of all types
Translation of invitations to bid

Bid document translation

Translation of design drawings

Translation of bills of quantity

Construction drawing description

Technical documents on structures

Planning documents
Construction investment project documentation

Progress Report, project survey results

Documentation of monitoring and construction processes

Project management documentation

DTP – desktop publishing

MSDS document translation

etc.
Notarized translation of all kinds of documents
Notarized translation of the company profile
Translation of contract types: labor contract, insurance contract, cooperation contract, etc.
Translation of types of reports: income statements, tax reports, financial statements, etc.
Translation of accounting documents
Media translation
The types of media translation at Tomato are diverse, including:
Script translation
Translation & Subtitling
Translation & Interpretation
Translation & Dubbing
Translation and Recording
Audio & video transcription and translation
On the other hand, media translation content is also diverse, meeting the needs of all customers:
Script of the opening ceremony of the project and the press conference to launch the new project
Videos on training sessions and business and project introductions
Types of films, such as documentaries on the establishment of construction enterprises, films on projects, etc.
Localization services
Application localization: interpolation applications, construction handbooks, etc. that are compatible with multiple platforms: IOS, Android, Windows, MacOS, etc.
Software localization: software programs on project design and management, project progress management, construction enterprise management, etc.
Localization of websites on PC and mobile: websites about enterprise or project introductions, etc.
Localization of videos of various categories: training videos, construction project introduction videos, construction enterprise introduction videos, etc.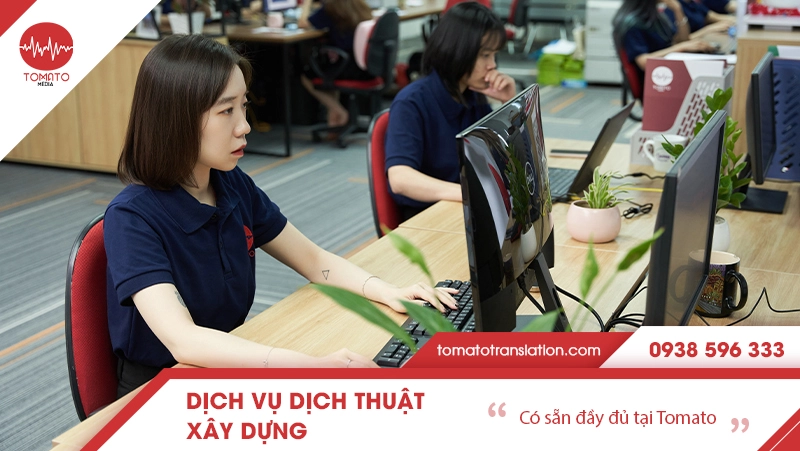 Tomato provides online and offline interpretation services for the construction industry nationwide
Tomato currently offers online and offline interpretation services for the construction industry to customers in 63 provinces. Typically, there are large cities such as:
Northern provinces: Hanoi, Hai Duong, Hai Phong, Quang Ninh, Ninh Binh, Bac Giang, etc.
Central Province – Central Highlands: Nghe An, Hue, Da Nang, Nha Trang, Phu Yen, Binh Dinh, Gia Lai, Dak Lak, Dak Nong, etc.
Southern provinces: Saigon, Binh Duong, Dong Nai, An Giang, Kien Giang, Can Tho, Soc Trang, etc.
Tomato offers #high-quality interpretation services for the construction field at construction companies in 50+ languages
Whatever language your construction project needs to be translated into, Tomato can do it well. Here are some common languages for which customers often require interpreters:
| | | | | | |
| --- | --- | --- | --- | --- | --- |
| | English | | French | | Arabic |
| | Chinese | | Taiwanese | | Spanish |
| | Japanese | | German | | Czech |
| | Korean | | Thai | | Dutch |
| | Italian | | Russian | | Khmer |
| | Burmese | | Finnish | ➩ | … |
Why hire a construction interpreter at Tomato Translation?
Thousands of customers have trusted and chosen construction interpreters at Tomato thanks to its following strengths:
A team of translators includes more than 100 experts and 3,000 collaborators around the world, ready to provide offline and online translation services every time and everywhere.
Well-trained interpreters with degrees from the university or more, accompanied by prestigious international language certificates.
The quality of the interpretation session is up to 100% accuracy.
Guaranteed confidentiality of all information with a non-disclosure agreement
Tomato has experience with 4722+ hours of interpretation and 50+ language pairs
The collaboration with more than 2500 partners and +65000 projects, such as Coca-Cola, BIDV, Bosch, OSB, Rohto, etc.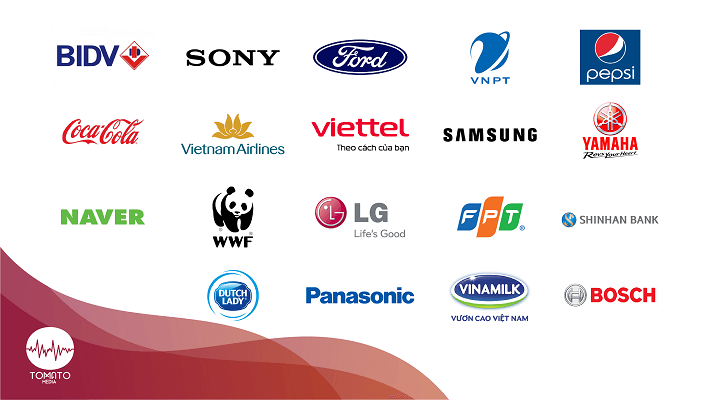 The translation quality management system at Tomato meets the international standard ISO 9001:2015.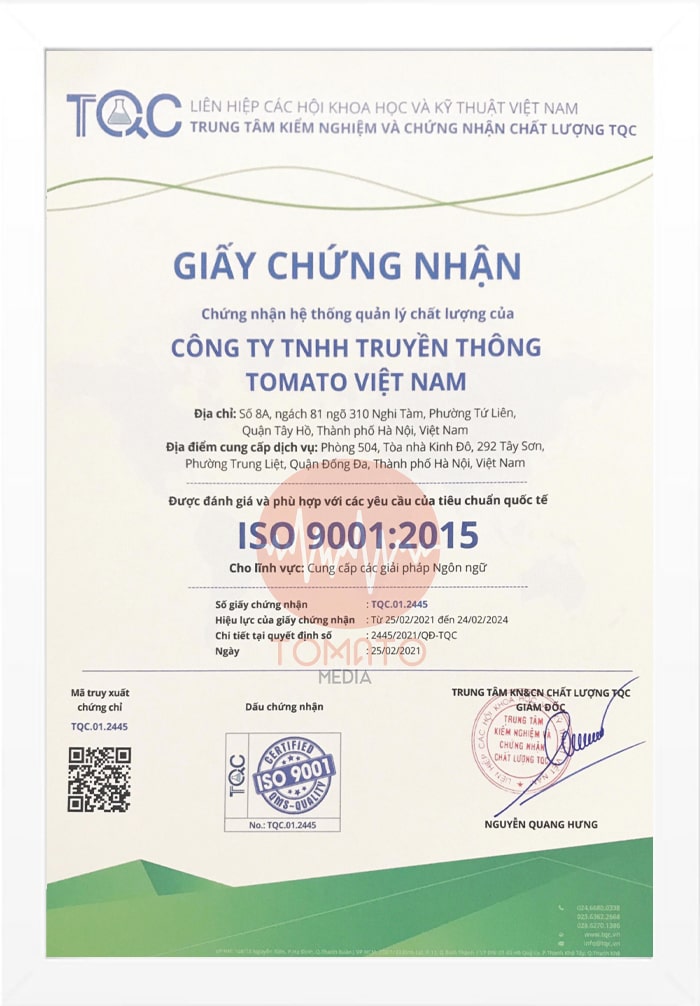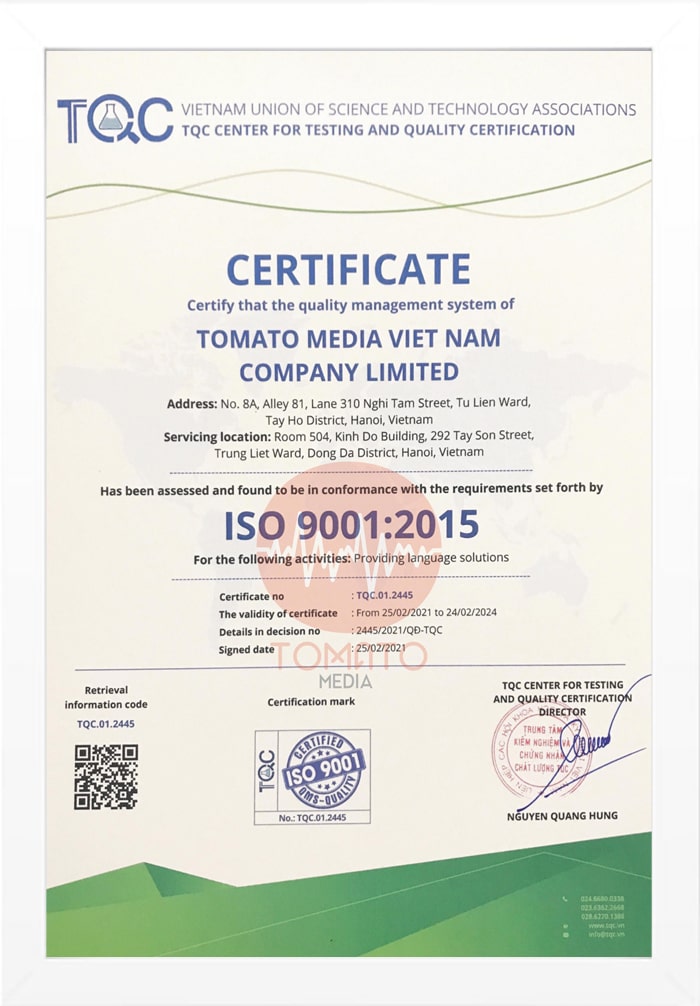 The translation service management system that meets the international ISO 9001:2015 standards
These advantages helped Tomato receive prestigious awards, confirming the company's position in the translation industry:
Reached the top 126 LSPI – the ranking of large translation companies in the world

Honored to receive the title of "2021 Excellent Products and Services" at the Announcement Ceremony of "Vietnam's Popular Brands and Labels & Excellent Business Leader 2021";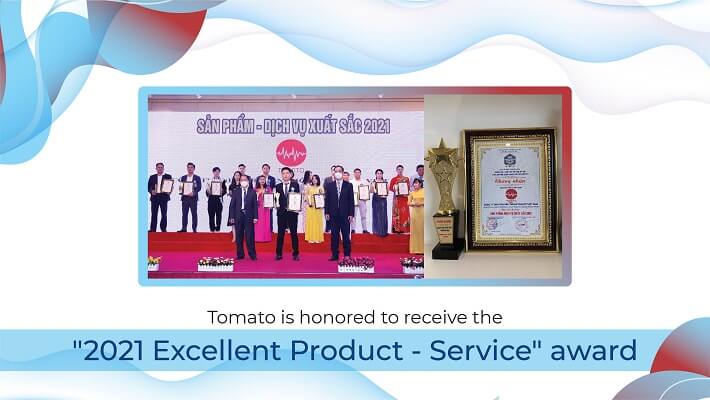 The best and most preferential interpreter hiring costs for the construction field
The cost of hiring simultaneous interpreters specializing in the construction field is usually calculated based on factors such as:
Number of hours or days of project implementation
The number of interpreters
Project location
Language pair
etc.
A change in one of the above factors may lead to a difference in the quotation for each project. So, for the most accurate quotation, please go directly to Tomato's office or call the hotline for our staff to be more specific. Tomato is committed to optimizing quotations at a competitive cost, corresponding to excellent translation quality.
Besides, Tomato Translation always has attractive discount policies for partners in the construction industry, loyal customers, etc. Please contact Tomato for more information about the policy.
Request a quick quote for professional interpreter hiring services
If you are looking for a highly qualified interpreter, please fill out the registration form below. Tomato consultants will contact you immediately to provide a clear, detailed quotation to suit your needs. Tomato undertakes:
Quick response within 15 minutes
Competitive pricing
Transparent quotation, commitment to no surcharges arising
Countless attractive offers
GET A QUICK QUOTE


Please describe your localization needs; our team will contact you quickly to assist you as soon as possible.
* We immediately provide a detailed quotation, including cost, delivery time, and method of implementation, within just 15 minutes of the request.
The professional interpretation process for the construction industry
Every interpretation process at Tomato is optimized to eliminate unnecessary steps. As a result, the project implementation time is shortened while still ensuring quality translation. Here are the steps in the interpretation process for the construction industry: Customers can refer to the following to visualize how the company works:

Understand more about interpretation services for the construction industry
Here is Tomato's answer to frequently asked questions about interpretation services for the construction industry.
What are the requirements for specialized construction interpreters?
Interpreters participating in the construction-specialized interpretation project should meet requirements such as:
Certificate of proficiency in foreign languages as well as translation skills
Have experience in interpretation for the construction industry, usually a minimum of 1-2 years.
Have background knowledge in the field of construction
Have skills in improvising and handling situations that arise unexpectedly outside scenarios
Have good communication skills and a clear and pleasant voice
Have good manners (formal outfits, punctuality, etc.)
Have good professional ethics (responsibility, honesty, etc.)
Capable of working effectively under high pressure
To receive a quotation for construction interpretation services, what information should be provided?
To receive the most detailed and accurate quotation for the interpretation service for the construction industry, please provide Tomato with the following information:
The basic contents of the interpretation session
Languages to be translated
The duration of the interpretation session
Project location
The number of interpreters
After how long will I receive feedback and quotes on interpretation services for the construction industry?
When the customer sends information for consultation, Tomato usually responds immediately, or at least within 15 minutes.
After the consultation call, Tomato gives a detailed and quick quote for simple projects (short interpretation time, only one interpreter required, etc.). For projects with complex requirements, Tomato will give careful consideration and schedule a specific time to provide quotations to customers.
Is there a discount on the price when hiring construction interpreters for large projects?
The answer is Yes. When customers hire interpreters specialized in construction for large projects, they will receive high discounts as well as attractive incentives. In addition, Tomato also has subsidy policies for loyal customers.
Is it possible to test interpreter qualifications before the event?
The answer is yes. Arranging an interpreter qualification test is an important step in Tomato's interpretation process. This aims to help customers get the most suitable interpreter for the project.
What are the methods of payment for services at Tomato?
Tomato currently accepts the following methods of payment:
Cash payment at the Tomato offices
Payment via bank transfer or Paypal
What are the working hours for interpretation services in Tomato?
For optimal customer support, in addition to direct service during business hours, we are always ready to answer questions and provide interpretation services 24/7. So, whenever there is a need for translation services, contact us via email at info@tomatomediavn.com or hotline number (Zalo: 938 596 333).
---
Promise of quality
Tomato Media guarantees to provide high-quality and consistent services in all its commitments to customers. Our employees follow well-established business processes to expressly communicate, promptly deliver services, and exceed customer expectations.
Tomato Media Company – #Prestigious #High-quality interpretation services for the construction industry
Address:
24/7 support nationwide
Hanoi Head Office: Room 504, Kinh Do Building, 292 Tay Son, Trung Liet Ward, Dong Da District, Hanoi, Vietnam
Branch in Bangkok: 362 Krungthep, Nonthaburi 2, Bangkok, Thailand
Branch in Jakarta: 12th Floor, Wisma 46 Tower, Karet Tengsin, Jakarta, Indonesia
Website: tomatotranslation.com
Email: info@tomatomediavn.com
Hotline: 0938 596 333