Japanese Interpreting Service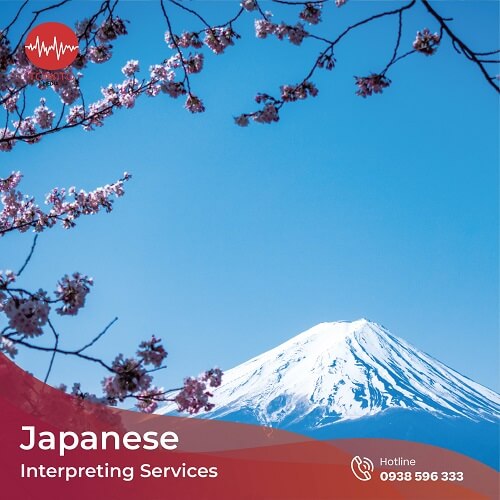 Professional & Responsible Japanese Interpreting Service

---
Tomato commits to:
📗 Accurate content, close to culture
📗 99+ interpreters with 3+ years of experience
📗 All-field interpreting
📗 Professional and flexible style
📗 Flexible service package
---
Requirements in Japanese interpreting
The demand for hiring Japanese interpreting services is increasing rapidly. Because Japan is one of the countries with strong FDI investment in the Vietnamese economy. Japanese interpreting is not an easy job because this is a type of direct interpreting, which can arise unexpected situations. Therefore, interpreters need to have in-depth professional experience, multi-disciplinary and flexible adaptability to meet the job requirements.
Aside from that, Japanese is a complicated language having Kanji, Hiragana, and Katakana alphabets. The Japanese, in particular, place a high value on using respectful and humble language when talking, yet this is a difficult component to master. Many interpreters, even those with years of experience, are perplexed. As a result, in order to attain the best level of interpreting effectiveness, interpreters must not only be fluent in the language but also be familiar with Japanese culture and communication styles.
Japanese interpreting service at Tomato – Professional with Native standard
Tomato is a famous firm specializing in providing Japanese interpreting services, which has been chosen by many businesses because of its high quality of interpreters and good customer care policy.
1. Types of Japanese interpreting at Tomato Media
Tomato is currently providing many types of interpreting to suit the needs of each project from many different customers.
On-Site interpreting in more than 50 languages
With the multilingual on-site interpreting service, Tomato's interpreters will help the parties communicate progress, changes, proposals directly at the production site, construction site or diplomatic and political events.
Project interpreting
Tomato's interpreter will act as a bridge to help the collaborating parties understand the content of the discussions. From there come decisions to improve, change, etc. about products or services.
Interpreting services remotely, by phone, video call
Tomato provides remote interpreting services for customers who cannot meet face-to-face or are hindered by geographical distance. The Japanese interpreting session will be conducted via remote communication tools, such as phone, zalo, skype, etc.
Consecutive interpreting
During awards ceremonies, press conferences, etc., our interpreters will receive information from speakers and proceed to interpret immediately after so that listeners can grasp the content.
Cabin/simultaneous interpreting
The interpreter sits in the cabin to both listen and interpret information from the speaker so that the listener can grasp the content at the same time. This is considered a difficult form of interpreting, requiring high language skills. Tomato is proud to have successfully implemented many cabin interpreting projects to satisfy customers.
Escort interpreting
Our interpreters will always walk side by side with our customers to help convey messages as well as interpret feedback in conferences, seminars, etc.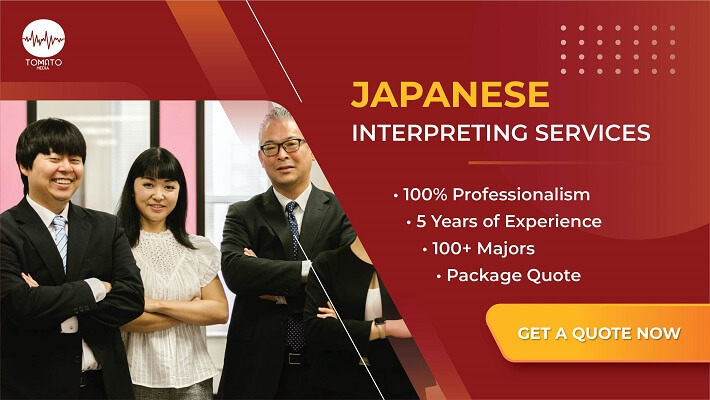 ---
The above types of interpretation are applied in real situations. At Tomato Media, you can get Japanese interpreting services for a wide range of topics and content. Specifically:
a. Workshop interpreting service
Tomato's interpreters will be present directly at factories, plants, workshops, etc. to interpret languages ​​between two or more individuals with content related to:
Machines and techniques
Staff training, progress check
Labor protection, etc.
b. Interpreting for Conferences and Seminars
The main contents when interpreting for conferences and seminars at Tomato Media include:
Multi-national conference on economic, political, diplomatic issues, etc.
Study abroad seminar, training workshop, etc,
c. Interpreting for Fairs and Exhibitions
Trade fairs to promote products, services, etc.
Art exhibitions: paintings, photos, etc.
d. Interpreting for Negotiation
The contents of the negotiation interpreting service at Tomato Media can be mentioned as follows:
Business negotiation, technology support, technology transfer, multilateral cooperation, etc.
Negotiating and resolving conflicts and proceedings (involving individuals or organizations)
Commercial negotiation, buying and selling, etc.
e. Court Interpreting
Court interpreters at Tomato with an understanding of court languages ​​and legal knowledge will assist in the simultaneous interpreting of two or more languages ​​to act as a bridge between litigants and parties to the trial, helping the court went well.
2. Japanese interpreting service nationwide
Tomato Media has staff working at branches in Ho Chi Minh City, Thailand, Indonesia and head office in Hanoi. Besides, Tomato has a network of more than 3,000 collaborators across the country and other countries around the world. We are ready to provide professional Japanese interpreting services in the form of face-to-face interpretation and online interpretation, in line with the complicated situation of the global Covid-19 pandemic.
When you use our services, you will have access to consultants 24 hours a day, seven days a week. Customers will feel safe and happy because to the staff's zeal and responsibility.
☎ Hotline: 0938 596 333
📞 Zalo: 0938 596 333 ( Tomato Media )
✉ Email: info@tomatomediavn.com
3. Japanese interpreting service into 50+ languages ​​at Tomato Media
The Japanese interpreting service at Tomato Media can fully meet all requirements for Japanese style, expertise and knowledge of the specialty to be translated. Besides, Tomato Media also provides translation services for many other languages ​​such as English, Chinese, Korean, etc.
| | | | |
| --- | --- | --- | --- |
| | English | | Spanish |
| | Chinese | | Korean |
| | French | | German |
| | Taiwanese | | Thai |
| | Italian | ➩ | 40++ more languages |
Japanese interpreting in a variety of specialties and fields
The Japanese interpreting service at Tomato Media is provided with more than 100 specialties and fields, typically:
| | | | |
| --- | --- | --- | --- |
| | Economics | | Construction |
| | Information Technology | | Legal |
| | Environmental Sector | | Electrical – Electronics |
| | Tourism | | Medical – Pharmaceutical |
| | Marketing | | Other specialties |
---
REGISTER OUR SERVICES
---
Japanese interpreting fee at Tomato Media
The cost of Japanese interpreting at Tomato Media is optimized with excellent service quality:
Tomato received the "2021 Excellent Product – Service" award
Tomato applies a globally recognized ISO 9001:2015 certified quality management system
Tomato entered the Top 150 of LSPI – A ranking and an index of the world's largest translation, localization, interpreting, and language technology companies
The following is a reference price list for Japanese translation services at Tomato Media:
*** Price list is for reference only
Unit: VND
Quotes are optimized with excellent translation quality
Languages

02 working hours


(01 interpreter)

04 working hours


(01 interpreter)

08 working hours


(02 interpreters)

1. Seminar consecutive interpreting
Vietnamese – Japanese
5.555.000
7.315.000
10.945.000
2. Conference simultaneous interpreting
Vietnamese – Japanese
—
18.040.000
35.750.000

Japanese and English, Taiwanese, French, German, Italian, Spanish, Portuguese, Thai, Cambodian, Laotian, Indonesian, Malaysian, Filipino, Czech, Swedish, Dutch, Danish, Norwegian, Ukrainian, Arabic, Myanmar, and others.

Contact for a quote
Why choosing the Japanese interpreting service at Tomato is your smart choice?
The Japanese interpreting service at Tomato Media is a comprehensive solution for your business or organization. With the outstanding advantages below, we guarantee to bring you the most perfect and quality service.
Years of experience in interpreting Japanese
Tomato Media is a leading provider of language solutions in Asia, with ISO 9001:2015 quality standards. Tomato is delighted to have received the trust of over 2,500 clients in its 5 years of operation in the field of Japanese interpreting, as well as the opportunity to accompany significant partners such as Samsung, Sony, Bosch, Panasonic, H&M, Microsoft, Vietnam Airlines, and others.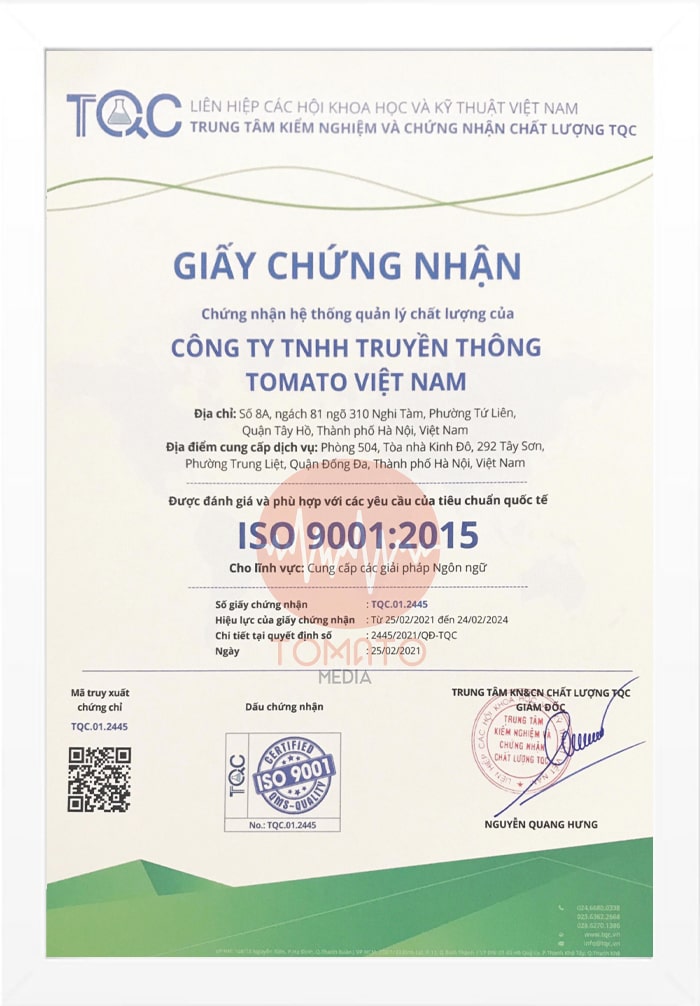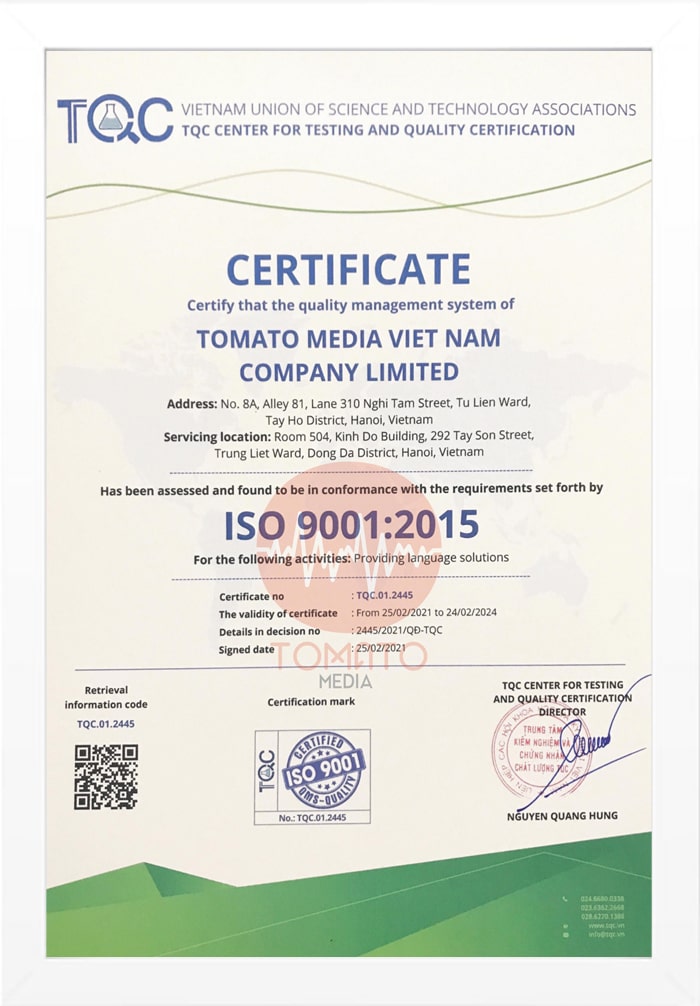 Tomato received the "2021 Excellent Product & Service" award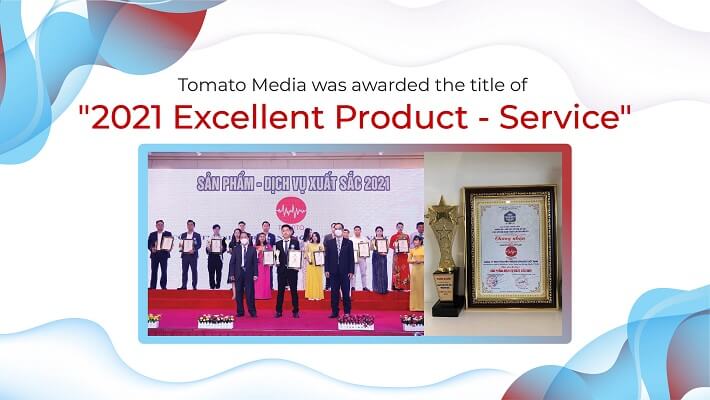 Tomato Media entered the Top 150 of LSPI – A ranking and an index of the world's largest translation, localization, interpreting, and language technology companies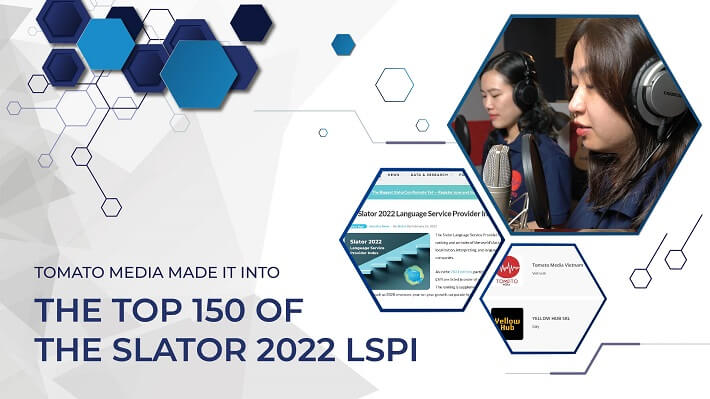 Standard interpreting process
Tomato Media has built an optimal interpreting process to bring the best experience to customers. From receiving project information, consulting, trial interpretation to checking the quality to real interpreting, all ensure to save time but still bring the highest satisfaction to customers.
Professional and experienced Japanese interpreters
People are one of the prerequisite factors affecting service quality. Understanding that, Tomato Media always focuses on building a team of high-quality interpreters:
100% of interpreters have qualifications and professional certificates (JLPT, BLT, Nat-test,…), understand Japanese and Japanese culture and use Japanese fluently like native speakers. Ensuring the ability to translate accurately and quickly.
Japanese interpreters meet the requirements of soft skills such as confidence, high adaptability, flexible improvisation to many situations, etc.
Good looks are also one of the highlights of Tomato's interpreters.
The project management team always closely monitors the progress of the implementation as well as makes contingency plans for unexpected situations that may occur.
Besides, customers can check the quality of interpreters before deciding to cooperate. All to ensure that the customer's project is running smoothly.
Flexible costs, meeting all interpreting needs
With many preferential combos depending on the type of interpreting, time to hire an interpreter, specialization in interpreting, etc., customers will save a lot of money if they choose Tomato Media as their companion.
Professional, dedicated and enthusiastic customer care service
Tomato Media provides Japanese interpreting services, and we consult ad quotations 24 hours a day, 7 days a week with a team of dedicated consultants that are available to help at any moment. All processes from receiving project information, consulting, sending quotations, signing contracts, etc. are done simply, quickly, and optimize customer's time.
Customer data security
Tomato is committed to protecting all customer data. This is one of the working principles and principles of Tomato Media so far and in the future. All customer documents are stored securely, 100% without copying, sharing, or stealing and Tomato will be responsible before the law if there is a security problem.
The current process of Japanese interpreting at Tomato Media
The following is the process of Japanese interpreting at Tomato achieving ISO 9001:2015 certification for Quality Management System: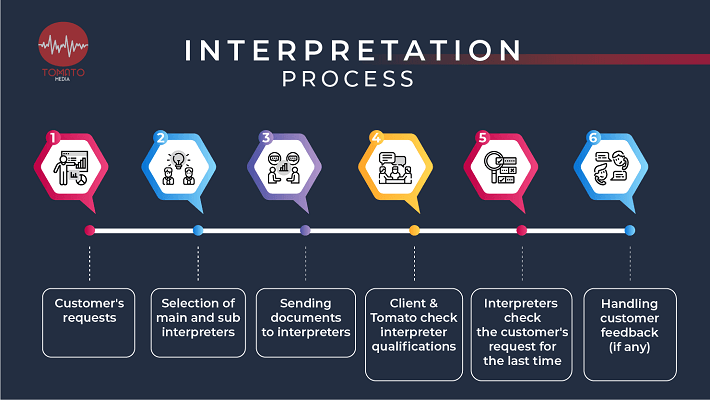 Japanese interpreting service at Tomato Media is trusted by 1500+ customers
Japanese interpreting service at Tomato is trusted by thousands of customers. Not only individual customers but also businesses, institutional partners and corporations.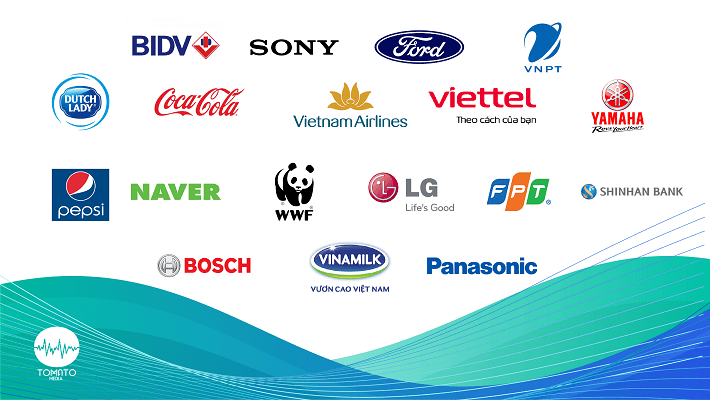 Common questions about Japanese interpreting
How special is Japanese writing?
Japanese is written using a combination of three scripts: modified kanji known as kanji, a two-syllable script consisting of modified kanji, hiragana, and katakana, and a three-syllable script consisting of modified kanji, hiragana, and katakana. In modern Japanese, the Latin alphabet is often used for company names and logos, commercials, and when entering Japanese text into a computer. Numbers are frequently written in Western-style Indian numerals, but traditional Sino-Japanese numerals are also prevalent.
Despite the fact that Japanese is nearly primarily spoken in Japan, it has been and continues to be spoken in other countries. Before and during World War II, when Japan controlled Korea, Taiwan, and sections of mainland China, the Philippines, and several Pacific islands, residents in these nations were forced to learn Japanese as part of empire-building plans. As a result, the Japanese immigrant population in these nations has a large number of people who can speak Japanese in addition to the local languages (most in Brazil). About 5% of Hawaii's population speaks Japanese, with Japanese ancestry accounting for the majority of the state's population (more than 24 percent of the population). Peru, Argentina, Australia, and the United States are all home to Japanese immigration.
Japanese is mostly spoken in Japan, which is an archipelago made up of over 3,000 islands. Honshu, Hokkaido, Kyushu, and Shikoku are Japan's four main islands, accounting for 97 percent of the country's land area. The majority of the islands are mountainous, with several volcanoes; for example, Mount Fuji, Japan's highest point, is a volcano. With a population of around 128 million people, Japan is the world's tenth most populous country. With a population of over 30 million people, the Greater Tokyo Area, which includes the de facto capital Tokyo and many surrounding prefectures, is the world's largest metropolitan area.
Who do you trust for your important Japanese interpreting needs?
Japanese is an important language all over the world. It is essential to understand the general nature and specific characteristics of Japanese.
Tomato has been providing exceptional Japanese interpreters and translators around the world since 2017. The international ISO 9001:2015 certificate, as well as Tomato's status in the top 150 of the LSPI – a rating and index of the world's largest translation, localization, interpreting, and language technology firms – attest to Tomato's service quality.
How to interpret Japanese in a constantly changing world?
COVID-19 arrived in Vietnam in January 2020 and has since altered our working environment by restricting face-to-face meetings. We understand that this may become the new standard for a while, and we are pleased to supply you with excellent remote interpreting choices.
Economical, safe and effective interpretation options:
Over-the-phone Japanese interpreting
We provide over-the-phone interpreting in more than 50 languages. This service is available seven days a week, twenty-four hours a day, and is ideal for projects and jobs that cannot be completed in person. This is also a wonderful way to plan for Covid-19 adaptations and is a convenient option. Tomato also offers over-the-phone Japanese interpreting services upon request. For more information, click here.
Remote Japanese video interpreting
It's known as a virtual connection via online video system (zoom, zalo, skype, Wechat, and so on), and it may be tailored to suit your needs. Our interpreters are available 24 hours a day, seven days a week. It's simple to set up, dependable, cost-effective, and efficient. For more information, click here.
What is the Japanese interpreting experience at Tomato?
We serve the market with Japanese-Vietnamese (Japanese-English, etc.) translation services in several application sectors thanks to our diversified experience earned in the high-quality translation services industry and since 2017 as a professional Japanese interpreter in Asia.
The primary areas that have been covered thus far, including more specialized ones, are listed below. If the issue you're looking for isn't listed, please call the hotline or fill out this FORM and we'll get back to you as soon as possible:
Trade negotiations and meetings: automobiles, motorcycles, agricultural machinery, molding machinery and systems, packaging machines, ecological systems, auto repair and maintenance systems, fashion, jewelry, cosmetics, furniture, food, leather goods (bags and shoes), materials, etc.
Fairs: automobiles, motorcycles, various industrial systems, foundry machines, agricultural machines, electromechanical equipment, renewable energy systems, fashion, furniture, food, publishing, etc.
Visit the market: ecological plants, building materials, automobiles, fashion, cosmetics, food, furniture, etc.
Technical tour: auto manufacturer, eco-system manufacturer, building material manufacturer, food manufacturer, etc.
Technical workshops and maintenance interventions: auto and industrial vehicle repair machines, molding machines and factories, production of building materials, accessories for cars and motorcycles, etc.
Presentation: motorcycles, fashion, jewelry, machinery, and repair products for commercial vehicles, industrial vehicles, and more.
Visits of international delegations and organizations
Corporate and private travels
Please contact us if you require additional information!
Tomato Media Company – Prestigious Japanese interpretation service
Address:
Hanoi Head Office: Room 504, Kinh Do Building, 292 Tay Son, Trung Liet Ward, Dong Da District, Hanoi, Vietnam
Bangkok Branch: 362 Krungthep, Nonthaburi 2, Bangkok, Thailand
Jakarta Branch: 12th Floor, Wisma 46 Tower, Karet Tengsin, Jakarta, Indonesia
Website: tomatotranslation.com
Email: info@tomatomediavn.com
Hotline: 0938 596 333