French Translation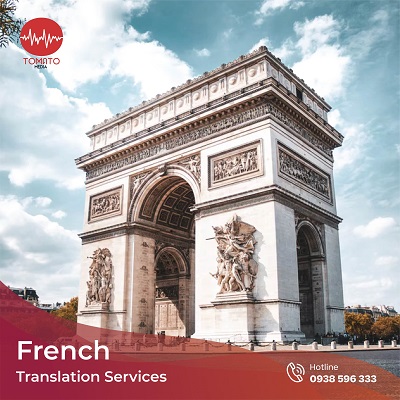 Professional French translation service, leading in Vietnam

---
Tomato's commitments:

📗 Translation accuracy up to 100%
📗 Instant translation, fast progress
📗 NDA for confidentiality
📗 Competitive price with many incentives
📗 ISO 9001:2015 International Process
–
---
French translation services at Tomato include:

Translation (translation of documents, texts) in French


French language localization


Media: recording, dubbing, translating subtitles,…

Register for a high-quality French translation service – Are you facing these problems?
You are looking for a high-quality French translation services and a French translation unit that meets the following criteria:
Translating French text correctly and close to the original content.
Translation style is smooth, fluent, easy to understand. Interpreters are able to capture information, arrange information logically and interpret quickly.
Having proper understanding of the customer's goals.
Absolute confidentiality of information.
Whose personnel are constantly learning more knowledge and improving professional skills and soft skills, etc.
The choice seems to be not simple because there are many translation agencies and every unit claims to be the best. However, the assessment will be more objective from customer testimonials. Tomato is proud to be one of the French translation units that are highly appreciated by customers and have the highest retention rate.
Fast – professional French translation service of Tomato
The cooperation relationship between France and Vietnam is growing day by day, along with the increasing number of related documents and texts, thus the demand for translation increases. Tomato quickly grasped the needs of customers and offered quick and professional French translation service packages.
Tomato provides translation services for French-Vietnamese as well as French and many other popular languages. Register with us now for the earliest support.

1. Our high-quality French document translation

Tomato translates the following types of French documents:
Company profile
Certificates of foreign languages, office IT skills
Citizen ID card, driving license
Student card
Household registration book, passport
Job application
Application for study abroad
Marriage status certificate
Certificate of Injury
Labor contract
Insurance certificate
Certificate of land use rights, vehicle registration, bank passbook
Theses, dissertations, projects
Scientific research works
Books, newspapers, magazines
Wills, inheritance transfer papers
For enterprises, the documents that need to be notarized include: business licenses, contracts of enterprises and documents of investment cooperation. To ensure legal validity, after being translated, French documents need to have the legal seal of the language translation service provider and be certified by the State.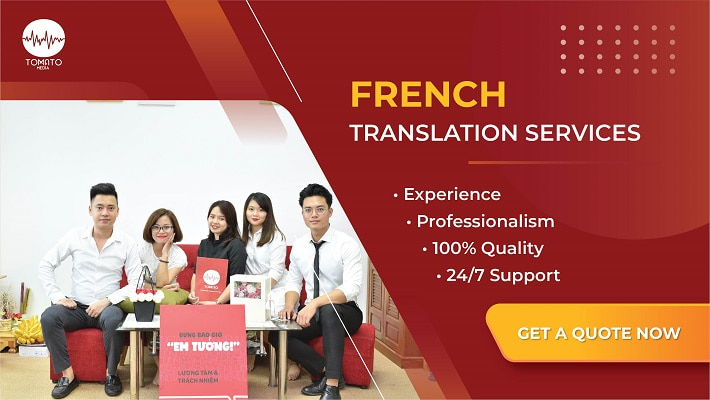 2. Professional French translator with native language

The team of French interpreters who are good at the language and knowledgeable about the local culture and flexible skills bring professionalism in the cooperation process. Tomato provides French translation services with a wide range of interpretation types and topics. Notable among them are:
The main forms of interpretation at Tomato include:

Parallel or in-cabin French interpretation
Follow-up, consecutive or relay interpretation
Accompany, escort, travel interpretation
Whispered translation
Remote interpretation via video call
On-site interpretation, in factory – workshop
The main interpretation topics catered for by Tomato include:

Interpretation of conferences and seminars.
Interpretation of events and exhibitions.
Court session.
Interpretation of court sessions, trials
Interpretation of events, press releases
Interpretation of meetings, negotiation, contracts signing
3. French language localization in Tomato

French localization requires a very high level of expertise. We provide accurate French translation services, fluently adapting content in accordance with French language style. French localization services at Tomato Media include:French game localization.
Software localization
French video localization.
App localization
Localize your website from French to another language and vice versa.
4. Speedy ​​and high-quality French Media translation

Besides the above French translation services, Tomato also provides Media translation services. The translation must be accurate regarding the original content, the style must be easy to understand and must convey the message of the original content.
Recording voice, video, movies.
Recording call center messages, automatic notification letters.
Recording news bulletins, content shown at shopping centers.
Translating promotional clips, introducing products.
Voiceover animation, sci-fi.
Creating French subtitles.
Video narration, TVC in French.
Translating movies and videos such as documentaries, scientific films, movies, music videos, advertising videos, etc.
We also provide translation for a lot of languages. See our full range of languages for translation.
French translation with a variety of specialties – fields at Tomato
At Tomato we provide French translation services with more than 100 different specialties and fields, typically:
French translation in Engineering and industrial field

Biological engineering.
Food engineering.
Chemical engineering.
Printing techniques.
Electrical and Electronic Engineering.
Automatic control engineering.
Enviromental engineering
Geotechnical engineering.
Petroleum engineering.
Ship engineering.
Mining engineering.
French translation in the fields of science, technology and environment

Biological Science.
Environmental science.
Materials science.
Oceanography (science of marine ecology)
Applied genetic technology.
Vaccine production technology.
Plant breeding technology.
Solid waste and harmful emissions treatment technology
Biochemistry, pharmaceuticals, drugs

Translation of pharmaceutical research documents.
Translation of pharmaceutical training reports.
Translation of medical packaging and labels.
Translation of product characteristics.
Translation of medical and pharmaceutical journals.
Translation of registration documents for circulation and distribution of drugs.
Translation of legal documents on medicine.
Translation of clinical research agreement.
Translation of drug test documents.
Translation of medical accident documents.
Specialized French translation for books, literature, magazines

French translation of written newspaper.
Translation of oral newspaper (audio, radio)
Electronic newspaper translation.
Translation of website information.
Translation of prose, story.
Translation of French poetry.
Translation of foreign economic journals.
Translation of specialized magazines in banking and finance.
Translation of women's magazines…
Economics, banking, finance

French translation of financial statements.
Translation of economic reports.
Revenue report translation.
Business contract translation
Translation of loan and mortgage contracts.
Guarantee contract translation.
Credit contract translation.
Translation of securities regulations.
Translation of accounting documents.
Translation of the latest audit documents.
Tourism, restaurant, hotel

French translation of tourism brochures.
Translation of website of hotels and resorts.
Translation of applications for sightseeing.
Translation of booking documents, calling a car.
Translation of hotel and accommodation rental contracts.
Translation of the price list of food and entertainment services.
Translation of hotel business documents.
Translation of notices of tourist destinations.
Mining

Mining industry includes the following contents for translation:
Translation of names of minerals.
Translation of mining process.
Translation of cautions when mining minerals.
Translation of rules for labor protection in mining.
Translation of contracts for the exchange and sale of minerals.
Marketing, Communication, Advertising

Translation of product marketing strategy documents.
Translation of advertising materials.
Promotion document translation.
Translation of documents in Pr (public relations).
Product brand management translation.
Multi-channel sales document translation.
Translation of advertising videos and documentaries.
Translation of French media.
French translation for fashion, cosmetics, beauty industry

Translation of French fashion magazines.
Translation of articles sharing beauty experiences.
Translation of websites specializing in beauty.
Translation of outstanding uses of cosmetic brands.
……
High quality French translation cost
The cost of French translation at Tomato Media is optimized with excellent quality:
Tomato received the award "Excellent Product – Service 2021"
Tomato entered the top 150 LSPI – the world's largest translation company rankings
Tomato applies a globally recognized ISO 9001:2015 certified quality management system
The following is a reference price quote for high quality French translation services at Tomato Media:
Price quote is for reference only ***

Quotes are optimized with excellent service quality

| | |
| --- | --- |
| Form | Price |
| Translation of documents, personal papers in French | 120.000 VND/Page |
| Common French document translation | 120.000 – 170.000 VND/Page |
| Notarized French translation – Private notary office | Translation fee + 65.000 – 80.000 (VND/copy} |
| Notarized French translation – Legal notary office | Translation fee + 120.000 – 160.000 (VND/copy} |
| Consecutive interpretation of French seminars (2 working hours – 1 interpreter) | Contact |
| Consecutive interpretation of French seminars (4 working hours – 1 interpreter) | Contact |
| Consecutive interpretation of French seminars (8 working hours – 2 interpreters) | Contact |
| French conference cabin interpretation (4 working hours – 1 interpreter) | Contact |
| French conference cabin interpretation (8 working hours – 2 interpreters) | Contact |
| French localization (websites, apps, software, games, etc.) | Contact |
|  French media translation (recording, dubbing, voiceover, subtitle translation, audio transcription, …) | Contact |
Price quote for French translation

Common documents and papers include: household registration book, passport, citizen identification, birth certificate, transcript, degree, etc.
Typical documents are estimated at 300 words/page
To receive an accurate quote for your French translation services, contact us immediately:
French translation by Tomato – Why is it your great choice?
Tomato is proud to be one of the leading units in French translation in Vietnam. We are committed to providing the most perfect service, the most accurate language localization and the most favorable after-sales incentives.
Tomato received the award "Excellent Product – Service 2021"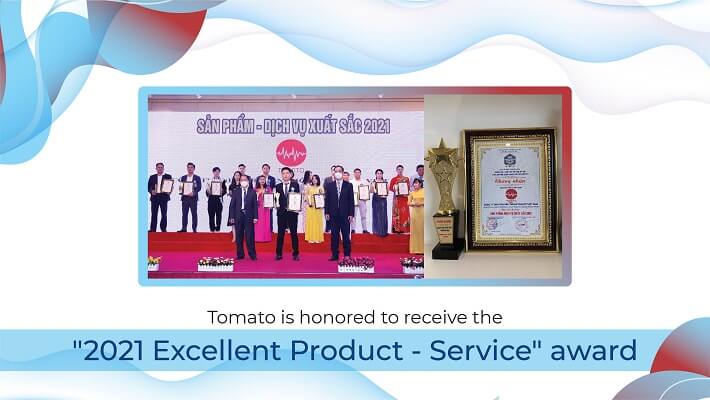 Tomato Media entered the top 150 LSPI – the world's largest translation company rankings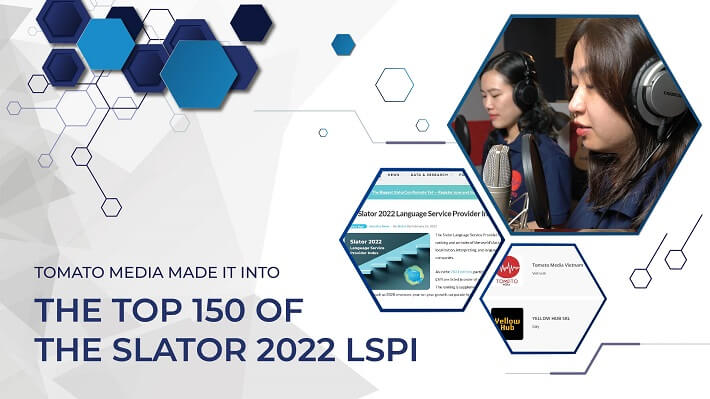 ISO 9001:2015 certified quality management system is globally recognized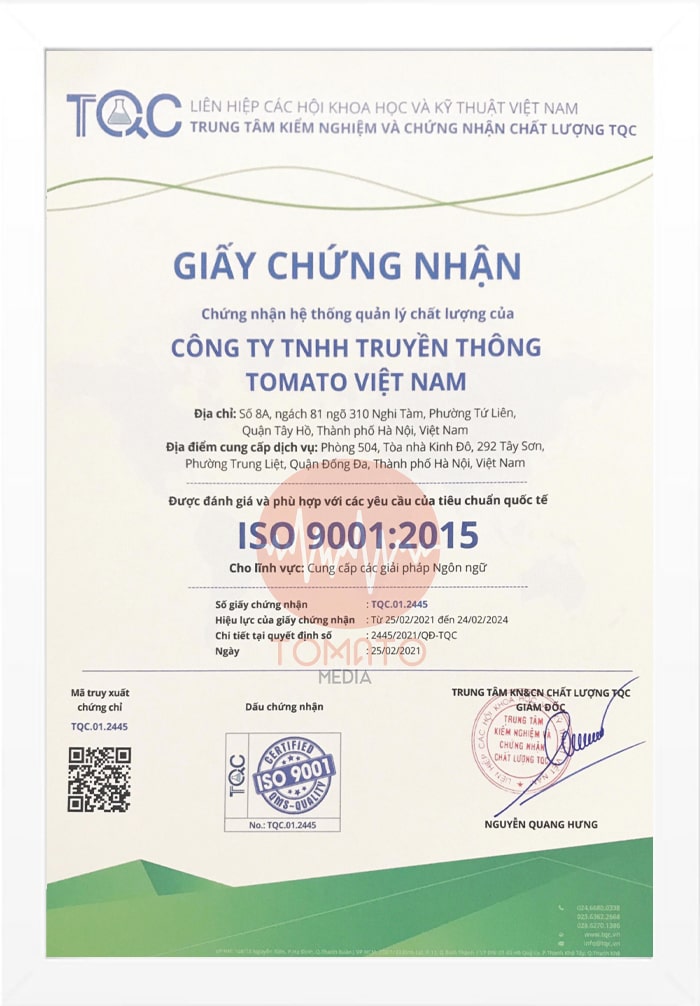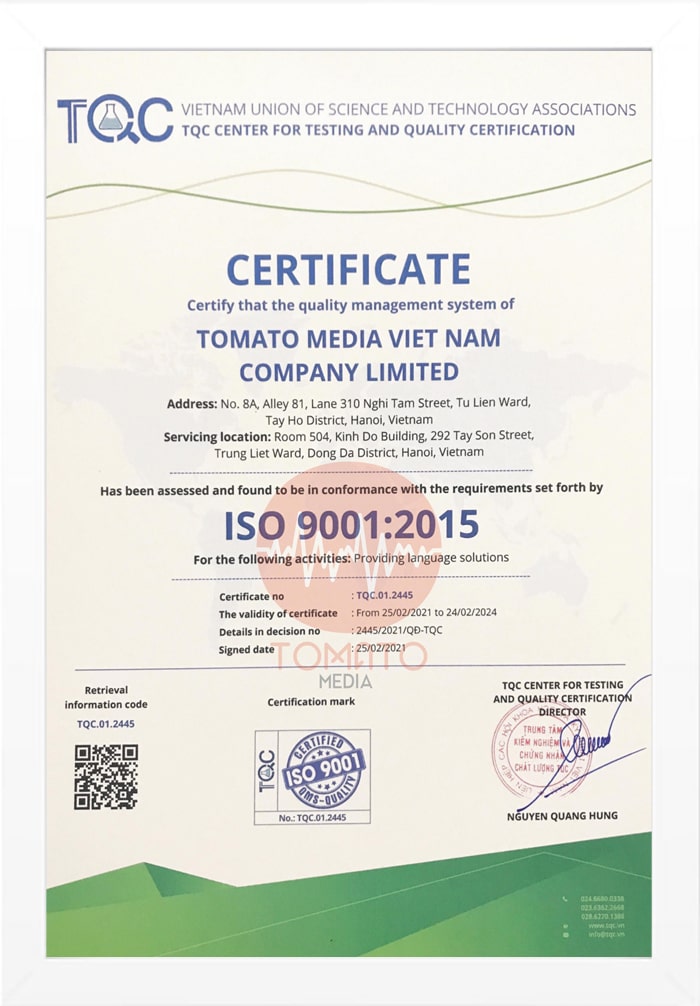 100% commitment to information confidentiality

Tomato Media Company respects the privacy and confidentiality of its customers. We will absolutely keep customer information and personal data confidential. The translators shall follow the translation rules to ensure the best quality translations to meet the requirements of the customers.
Competitive price

We always prepare a quotation with full information related to the service to send to customers when consulting. Then, depending on the choice and needs of the customer, we shall makethe corresponding contract. The French translation packages at Tomato are suitable for every budget level such as: quick translation, basic translation, etc. We are proud to be a translation unit with competitive prices to help customers save costs for coming cooperation with us.
Accurate translation quality

The translation product is close to the original contents, with high accuracy of up to 100%. Tomato manager conducts a careful review before handing over to the customer. If the customer has any changes or adjustments, Tomato is ready to edit it for free during the warranty period.
Highly qualified staff

We have more than 3000 translation staff including full-time and freelancer, all are highly specialized, carefully screened and selected. All have been standardized on the professional French translation process. 100% of Tomato's translators graduated from prestigious universities in Vietnam and abroad. They not only have the appropriate level of foreign languages, but also have knowledge of specialties as well as cultural understanding of countries to ensure that they meet the strict requirements of customers.
Reputable translation agency

Tomato Media is a translation agency with more than 5 years of experience specializing in providing French translation services for domestic and foreign individuals and businesses. Some of our major partners include: BIDV Bank, Yamaha, VNPT Corporation, FPT Corporation, Sony, Samsung, Vietnam Airlines, Coca Cola soft drinks… More than 1000 customers and partners have trusted us and use our services.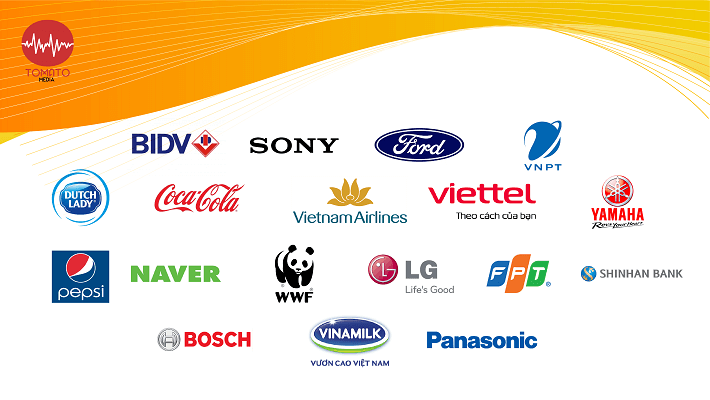 Tomato Media Company – Reliable French translation

Address:
Hanoi Head Office: Room 504, Kinh Do Building, 292 Tay Son, Trung Liet Ward, Dong Da District, Hanoi, Vietnam
Branch in Bangkok: 362 Krungthep, Nonthaburi 2, Bangkok, Thailand
Branch in Jakarta: 12th Floor, Wisma 46 Tower, Karet Tengsin, Jakarta, Indonesia
Website: tomatotranslation.com
Email: info@tomatomediavn.com
Hotline: 0938 596 333