Korean Translation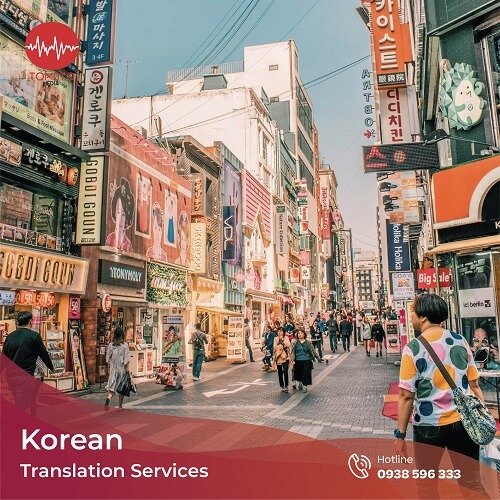 Korean translation at Tomato – Professional – Accurate
---
Tomato's commitments:
📗 Accuracy up to 100%
📗 Quality meeting ISO 9001:2015
📗 Strict adherence to the deadline and timely delivery
📗 Absolute information confidentiality by NDA
📗 Reasonable quotation, money saving
–
---
Main services:
Korean translation

Korean interpretation
Other services:
Korean Media Translation


Korean language localization

Korean translators need to pay special attention to the following
Korean translation helps you access information, events, documents in various fields, industries as well as Korean culture, for the purpose of entertainment, study or work. However, this is a difficult language to translate, with complex sentence structure, grammar and pronouns. Not to mention, Korean communication manners will be radically different according to genders, ages, ranks or positions.
The above requires the translator and interpreter to pay attention to the following characteristics:
For translation: The translation must have high semantic accuracy, fluent style, suitable for the target user's local culture. Professional document presentation form, standard template.
For interpreters: Deep understanding of Korean culture and code of conduct in order to interpret correctly and in accordance with the context of the conversation. The interpreter must have fast reflexive interpretation skills, fully conveying the ideas expressed in the original sentence.
High Quality Korean Translation Service at Tomato
Tomato Media is one of the leading Korean translation service providers in the market today with many translation languages. We have a team of thousands of professional translators and a quality management system that meets ISO 9001:2015, allowing us to take on many multi-form and multi-disciplinary Korean translation projects.
At Tomato, we translate Korean – Vietnamese (translate Vietnamese to Korean and vice versa) as well as many other popular languages. Register now with us for the earliest support.
1. Translation of documents, papers, records to and from Korean
Tomato provides Korean translation services with all types of documents, papers, notarized documents below:

Translation of documents in over 100 fields

Books, newspapers, magazines, documents, novels, poetry, short stories… in Korean


Documents, company capacity profiles, catalogs, brochures, leaflets… 

Types of academic documents, research reports, theses, dissertations… for bachelors, masters, doctors…

Translation of documents related to engineering, production, design drawings…

Documents, records, notarized documents in Korean

Notarized personal documents and records such as diplomas, foreign language certificates, driver's licenses, passports, visas, study abroad applications or labor export registration documents, bank statements, insurance , Health Certification…

Notarized documents and records for businesses such as business licenses, advertising licenses, product component testing certificates, diplomas, company certifications…

Translation of various types of purchase and sale contracts, insurance contracts, property transfer contracts, joint venture cooperation contracts, labor contracts, etc.

Records, papers, invoices related to auditing and accounting such as tax reports, financial statements, tax returns, receipts and payments…

Documents, notarized documents on import and export such as customs declarations, inspection papers, products' certificates of origin, certificates of hygiene and safety…

Documents and dossiers related to bidding, bidding documents, bidding capacity proof…

Other types of documents

Translation of documents for trials of civil or criminal cases such as disputes, complaints, frauds, assaults, fights causing injury…

Tables describing properties, safety of materials, chemicals, MSDS documents

DTP versions in Korean…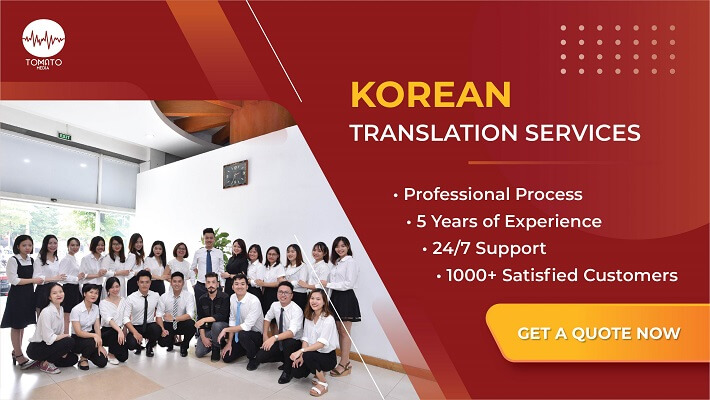 2. Professional Korean interpreter speaking native language

Interpreters at Tomato are currently assisting customers in performing the following forms of Korean interpretation:

Remote interpretation via telephony system or video call by Zalo, Skype, Zoom, Google Meet…

Cabin/parallel interpretation

Whispered interpretation

Relay/Consecutive translation

Escorting interpreters for projects or events,…

The above interpretation methods will be applied depending on the requirements of each project or event, including:

Escorting interpreters at factories, production workshops, industrial parks…

Korean interpreter for conferences, seminars, workshops, dialogues on environmental, economic, military, diplomatic issues…

Korean remote interpretation for meetings, seminars, conferences, online talkshows…

Whispered or relay interpretation at bilateral or multilateral negotiation meetings between businesses or political organizations or NGOs…

On-site interpretation at exhibitions, fairs, specialized seminars…

Interpretation in courts for disputes, civil or criminal lawsuits with Korean speakers…

3. Korean language localization in Tomato

Tomato's Korean language localization services are applicable to the following categories:

Localization of websites to introduce products and services of brands, business information, press websites, online magazines, product sales landing pages, service registration …

Localization of applications on mobile, computer, and tablet platforms such as language learning apps, movie watching apps, music listening apps, e-wallets, online chatting or making friends, financial apps…

Localization of Korean software related to video editing, human resource management, finance, logistics, word processing software, calculation or graphic design software…

Localization of games with products, documents, videos… accompanying Korean games…

Localization of videos/clips in the fields of entertainment, education, news, economics, life sciences, soft skills, manuals for office computer software…

4. Reliable Korean Media Translation

Korean media translation at Tomato is popular with the following forms:

Translation & Recording

Translation combined Dubbing

Translation combined Narration

Translation and creation subtitles

Translation of video/movie genres

Transcription of audio or video files

Translation of a variety of script genres…

These services are mostly applied to the following videos and media products:

Audio files in formats such as MP3, MPEG-1, WMA, WAV, FLAC, OGG, AIFF, AAC, AMR…


Video files in MPEG-2, MPEG-4, DivX, HEVC, AVI, MOV, WMV, MKV, WMV, VOB, FLV… formats

Movie genres such as TV series, movies, cartoons, short films, documentaries, science fictions…

Videos about reportage, breaking news, news bulletins, gameshows, reality TV shows, food reviews, sharing skin care methods…

Musicals, MVs, operas…

Video formats such as podcasts, audiobooks, reading books, etc.

Promotional videos and clips such as TVC, viral clips, product instruction clips, information sharing, product effects…

Advertising publications such as posters, banners, profiles, flyers, GDN banners…

The best quality Korean translation with a variety of specialties – fields
Currently, Tomato is performing Korean translation for more than 100 specialties in many fields such as:

Engineering – Production

Automotive Engineering

Information technology

Mechanics

Transportation

Post and Telecommunication

Construction

Architecture

Forestry

Education and training

Medical – Pharmaceutical field

Cosmetics – Pharmaceutical cosmetics

Finance – Banking

Insurance

Real estate

Agriculture

Food and food product processing

Ecommerce

Tourism – Hotel – Restaurant

Natural Resources – Environment

Energy and Petroleum

Electronics and refrigeration


Marketing

Media – Entertainment

Biotechnology

Chemistry major

Law, Regulation

Accounting and auditing

Import and Export

Commerce,…

Reference price quote of Korean translation services
This Korean translation service price quote is for reference, for an exact quote for your desired service, please contact us immediately:
Price quote is for reference only ***

Quotes are optimized with excellent service quality

| | |
| --- | --- |
| Form | Price |
| Translation of documents and personal papers in Korean | 90,000 VND/Page |
| Normal Korean document translation | 90,000 – 140,000 VND/Page |
| Notarized Korean translation – Private notary office | Translation fee + 65.000 – 80.000 (VND/Copy) |
| Notarized Korean translation – Judicial Notary Office | Translation fee + 120.000 – 160.000 (VND/Copy) |
| Korean seminar consecutive interpretation (2 working hours – 1 interpreter) | 5,555,000 VND |
| Korean seminar consecutive interpretation (4 working hours – 1 interpreter) | 7,315,000 VND |
| Korean seminar consecutive interpretation (8 working hours – 2 interpreters) | 10,945,000 VND |
| Korean conference cabin interpretation (4 working hours – 1 interpreter) | 28,930,000 VND |
| Korean conference cabin interpretation (8 working hours – 2 interpreters) | 54,450,000 VND |
| Korean language localization (websites, apps, software, games, …) | Contact |
| Korean Media Translation (recording, dubbing, voiceover, subtitle translation, audio transcription, …) | Contact |
Note: For a typical document 1 page is estimated to be about 300 words. This price quote is for reference only. To receive a detailed quote on Korean translation services, please click:
Tomato Korean Translation Center – Why should you choose us?
The quality of Korean translation services at Tomato is guaranteed with high accuracy, bringing peace of mind and absolute satisfaction to thousands of customers by the following factors.

Being ISO 9001 certified and a member of many international language organizations

With a quality management system accredited to ISO 9001: 2015, Tomato Media is now an official member of prestigious language organizations such as the American Translators Association (ATA), the European Language Industry Association (ELIA) and the Association of Asian Translation Industry (AATI).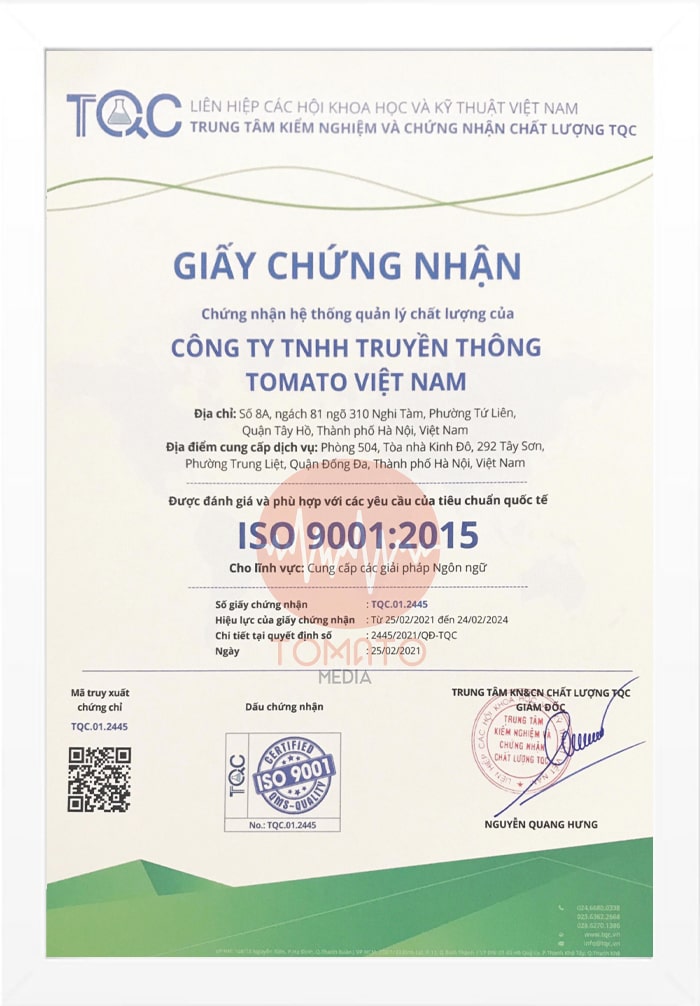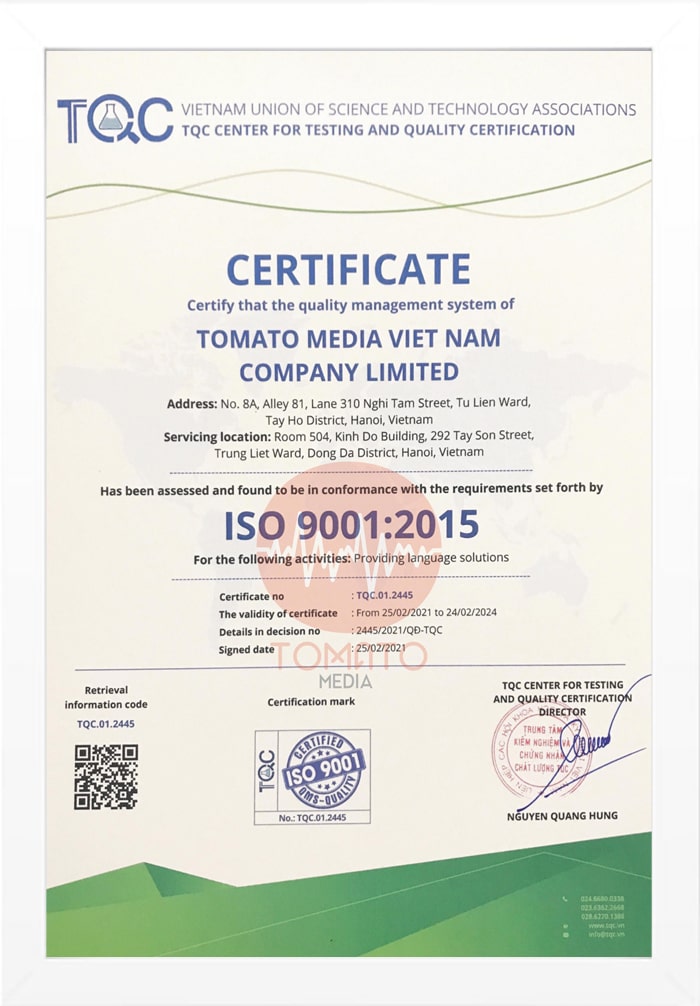 Tomato received the award "Excellent Product – Service 2021"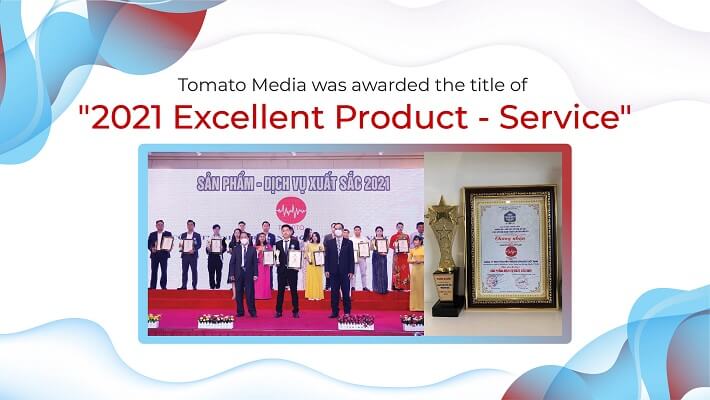 Tomato Media entered the top 150 LSPI – the world's largest translation company rankings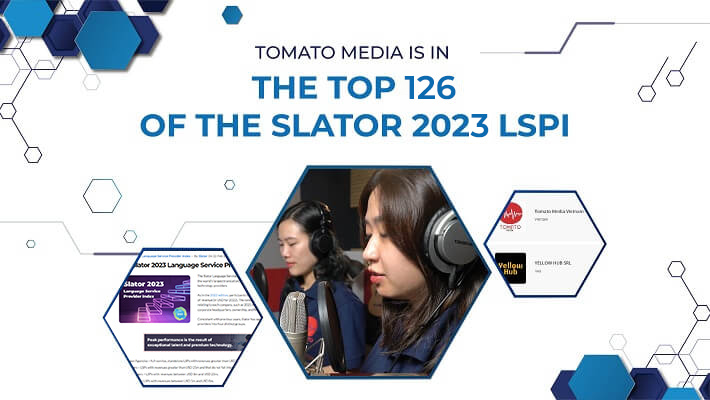 Being a reputable partner of many big brands

After more than 5 years of operation, Tomato Korean translation center has now successfully performed more than 4,722 hours of interpretation, over 2,431 hours of recording – dubbing as well as translated more than 1 billion documents for over 65,000 projects and 2,500 partner. Some of our customers are brands belonging to large companies and corporations such as PNJ, Yamaha, LG, Michelin, Sony, Samsung, Canon, VinGroup, Circle K 24 hours, H&M, Toyota, Pepsi, Panasonic…

Having professional staff, who are experienced in practical interpretation

Most Korean interpreters at Tomato have at least 4 years of experience. They are all bachelors, masters or doctorates from many famous domestic or international universities, with extensive knowledge in many fields regarding Korea such as culture, economy, cuisine, etc.

In addition to a team of professional, high-quality translators, we also have experienced recording, editing, video editing technicians and recording specialists who are voice actors, narrators, MCs, editors from major stations such as VTV, HTV, VTC, VOV…

Providing a variety of services in many provinces

With a team of more than 100 specialists and over 3,000 collaborators, Tomato is capable of serving many translation projects in all provinces and cities in the country as well as in many other countries around the world.

Ultimate confidentiality policy

All information of projects is kept completely confidential by the NDA contract upon customer's request. Without the permission of the partner, Tomato and the team of translators and interpreters are committed to absolutely not disclosing any information related to the project to third parties.

Attentive and dedicated customer service

After receiving the complete request, our staff will send quotation after only 15-20 minutes.

24/7 consulting service, all days of the week

Application of modern translation technology and software in controlling translation quality.

For translation services, the translated results are guaranteed for delivery on time. Within 3 days after handing over, if customers detect errors, Tomato still supports 100% free correction.

Regarding interpretation services, our interpreters always arrive 15 – 30 minutes before the appointment. Before implementing the project, the client has the right to select and pre-check the interpreter's ability.

Competitive price quote

All quotes for translation services at Tomato have a detailed price list of each item. Depending on the requirements, we will summarize and quote the best price for the project while still ensuring optimal cost efficiency for customers. At the same time, Tomato also supports additional discounts for partners through many attractive promotions.

Frequently asked questions about Korean translation
What are some facts about the Korean language?
In North and South Korea there are more than 77.2 million people who speak Korean as their mother tongue, the script itself is called Hangul. Modern Korean is thought to have evolved as early as the 3rd century from the Bueyo languages. Chinese sources confirmed this. The Silla Kingdom first brought together the different tribes of the Korean Peninsula. The old languages ​​disappeared and people began to speak a single language, Chinese Korean, the first written records date back to the 15th century. Until the 17th century, the language continued to flourish until it became present-day Korean.
While in South Korea people mainly talk in the dialect and spelling of the capital Seoul, the dialect of Pyongyang prevails in the North. However, the differences are limited and can be easily understood across the entire peninsula, regardless of the dialect used. Jeju Island is the only exception. The dialect of the people here is very different from other dialects of Korea and Koreans from other parts of the country find it very difficult to understand. Due to the division of the country, Korea has borrowed more words from English or formed new words based on them.
Is Korean difficult to translate?

Due to its grammar and word order, Korean is often considered one of the most difficult languages ​​to learn in the world. For example, the verb always comes at the end of a sentence and is used depending on who you are speaking to and the context. Although the Western and Hangul alphabets are closely related and the latter consists of 14 consonants and 5 vowels, there is added complexity when working with software and documentation, as the letters are the so-called "double byte character" in reference to computer systems, since each Korean letter is a block of syllables consisting of a combination of consonants and vowels.
Translation into Korean from any source language is more difficult than most other languages ​​because Korean is an isolated language. In other words, Korean is not related to any other language. If translation into Japanese or Chinese presents certain difficulties, translating into Korean presents many challenges that other language pairs do not.
Tomato has a team of Korean translators based in Hanoi (Thailand, Indonesia) with excellent Korean language skills and many years of experience in Korean – Vietnamese, Korean – English, etc. language pairs. Tomato guarantees that your complete translation product will read as if it were originally written in Korean.
Why does your business need Korean translation services?

The Korean economy is considered one of the greatest economic successes in history: thanks to its opening to foreign trade and innovation, the country has experienced more than 50 years of constant economic growth.
The capital Seoul is currently one of the most important financial and commercial centers in the world, that's why more and more companies are using professional Korean translation services to establish business relationships with this country.
Spoken by more than 80 million people around the world, the Korean language is often considered one of the most difficult languages ​​for Vietnamese, mainly due to the complexity of the Hangul alphabet. For this, Tomato has the best experts in translation and interpretation, specifically trained in various fields, to guarantee clients the highest quality and professionalism in every case.
Is Korean translation at Tomato certified?

Yes. Tomato Media Korean Translation Company is one of the few companies in the translation industry that is certified according to the international ISO 9001:2015 standard for its Quality Management System. With this seal of approval, we can guarantee the highest quality for your translation products, as all of our Korean translators are highly skilled and the translated text is always proofread by an experienced and independent editor. Our efficient project management also helps us to provide you high quality translation outcomes.

We have provided Korean translation services to the satisfaction of many customers. Let our references convince you and benefit from our guarantee of quality.

What are the prices and estimates for Korean translation services?

Korean document translation will have a reference price of 90,000 – 140,000 VND per page of about 300 words with excellent quality translation. For interpretation services, the price will depend on the number of hours of interpretation and the type of interpretation required at the event. To request a price quote for Korean translation services, you can:

Send documents and request for Korean translation and interpretation to our e-mail info@tomatomediavn.com

Contact us at phone number 0938 596 333

Fill out the form below:

Tomato Media Company – Reliable Korean translation

Address:
Hanoi Head Office: Room 504, Kinh Do Building, 292 Tay Son, Trung Liet Ward, Dong Da District, Hanoi, Vietnam
Bangkok Branch: 362 Krungthep, Nonthaburi 2, Bangkok, Thailand
Jakarta Branch: 12th Floor, Wisma 46 Tower, Karet Tengsin, Jakarta, Indonesia
Website: tomatotranslation.com
Email: info@tomatomediavn.com
Hotline: 0938 596 333