Chinese Translation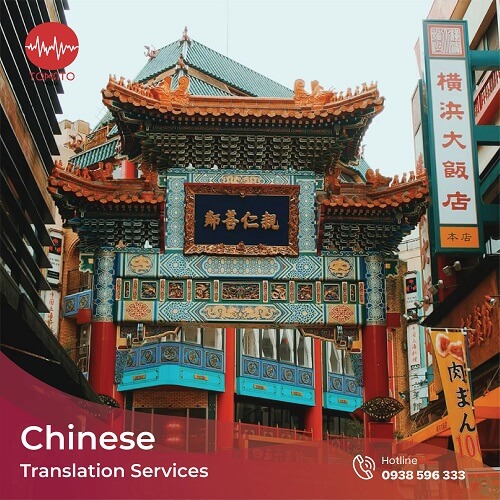 Chinese translation in Tomato – Accurate – Competitive price
---
Tomato's commitments:
📗 Accurate Chinese translation ~100%
📗 Translation in more than 100 specialties
📗 NDA Top Privacy Policy
📗 Quality standard ISO 9001: 2015
📗 Cost optimization, competitive price
–
---
Main services:
Chinese translation

Chinese interpretation
Other services:
Chinese language localization

Chinese Media Translation
Get to know Chinese translation
Similar to other languages, Chinese translation is divided into two types: translation (written translation) and interpretation (oral translation). However, the Chinese translation and interpretation processes are difficult, for the following reasons:
A complex hieroglyphic writing system consisting of Simplified and Traditional characters. Simplified characters are used a lot in Mainland China and Traditional characters are commonly used in Guangdong, Taiwan, Hong Kong…

Each region and locality has a different way of speaking, for example, Chinese in the mainland will be different from Chinese in Taiwan and Hong Kong.

A huge number of words, diverse grammar, many homonyms but different semantics…

Rich and concise methods of writing and interpreting sentences.

Diverse personal pronouns, customs, practices, and regional beliefs, etc., requiring the translator/interpreter to have a good understanding of the Chinese language and culture.
With these characteristics, Chinese translation usually has to be done by well-trained and experienced translators and interpreters, in order to ensure the best quality for the project. An effective way to get good personnel according to the above requirements is to find reliable and professional translation companies. 
High-Quality and Reliable Chinese Translation Service in Tomato
Tomato Media Translation Company is a unit specializing in providing a variety of translation forms from Chinese to Vietnamese and many other popular languages. Contact us now to get registered for service.
The quality of our translation services is recognized as satisfying ISO 9001:2015 standards, with a strict and self-contained process management system in every step from price quotation to warranty. In particular, Chinese translation is one of Tomato's most popular services, typically with the following types of translation:
Translating Chinese documents at Tomato
Chinese translation at Tomato receives many repeat registrations from customers after using the service for the first time. Translating documents into Simplified or Traditional Chinese in Tomato catters for a variety of forms.
📗 Translating Chinese documents, books and newspapers in many fields:
Documents, books, newspapers, magazines, comics… written in Chinese

Chinese translation of scientific reports, thesis reports, dissertations, bachelor, master, doctorate theses

Chinese language materials for teaching and training officials and employees…

Documents related to production techniques, occupational safety, description of ingredients, chemicals, etc.

Documents, dossiers certifying company capacity, company profile, press release, catalog, product brochure…

MSDS document translation,

DTP translations for Chinese – Vietnamese or Vietnamese – Chinese and 49 other language pairs…
📗 Translation of documents, notarized documents in Chinese:
Documents, notarized personal papers in Chinese such as:

Birth certificate

Citizen identification

Driver's license

Diploma

Foreign language certificate

Marriage certificate

Certificate of marital status

Passport

Visas

Application for studies abroad

Tax returns…

Notarized Chinese translation for documents and records for businesses such as:

Business registration permits

Advertisement permits

Product announcements

Invoices

Construction permits

Land use right certificates, etc.

Translation of various types of contracts such as:

Joint venture cooperation contracts

Share transfer contracts

Purchase and sale contracts

Labor contracts, etc.

Types of bidding documents, bid calling documents, certificates of capacity to participate in bidding…

Types of papers, records, invoices, documents, tax reports, financial statements related to auditing, accounting…
| | |
| --- | --- |
| TOMATO MEDIA received the "Excellent Product – Service 2021" award at the Government Office Conference Center | 5+ years prestige, dedication, high specialization |
Reliable Chinese interpretation in Tomato
Tomato provides a team of interpreters who perform many types of interpretation such as:
Cabin/parallel interpretation at seminars, conferences, diploma – prizes awarding events, press conferences, civil/criminal trials…

Remote interpretation via voice call or video call by Skype, Zoom, Google Meet… at talkshows, seminars, conferences, online meetings.

Whispered interpretation at conferences, job report meetings, board meetings

Consecutive interpretation, relay interpretation for press conferences, bilateral and multilateral negotiations, seminars, conferences, exhibitions or fairs, awards ceremonies, cooperation announcements…

Accompanying interpretation at factories, workshops, industrial parks, exhibitions, fairs, tours…
Localize Chinese language with Tomato
Tomato's Chinese translation and localization service is usually made for genres like:
Chinese Localization of software:

Regarding graphic design

Video editing software

Vocabulary lookup software,…

Chinese app localization for:

Learning apps

Online dictionaries

Movie apps

Music apps

Photo editing apps

Online shopping apps, etc.

Website localization for:

Newspapers website

Online magazines

E-commerce web

Chinese game localization includes offline and online games as well as the products accompanying these games.

Localization of videos for:
Professional Chinese Media Translation
For our Chinese translation service, Media Translation received many positive feedbacks from customers. The forms of Chinese Media translation services performed by Tomato include:
Translation and recording in Chinese – Vietnamese, Vietnamese – Chinese and 49 other languages

Translation and Dubbing from Chinese to 49 languages ​​and vice versa

Translation and narration from Chinese to Vietnamese, Vietnamese to Chinese and 49 other languages


Translation of Chinese subtitles into 49 languages ​​and vice versa

Translation of Chinese scripts into 49 languages ​​and vice versa

Transcription of video or audio from Chinese to Vietnamese, Vietnamese to Chinese and 49 languages

Translate videos or movies from Chinese to 49 languages ​​and vice versa

The genres of media translation usually include:

Movies, TV series, cartoons, short films, documentaries…

Gameshow, talk show, reality TV show, MV


News, reportage, scientific knowledge sharing, video postcard

Books such as ghost stories, novels, short stories, etc.

TVCs, viral clips for advertising products and services

Movie scripts, advertising scripts, livestreams, musicals…

Advertisement publications such as posters, GDN banners, email – marketing, flyers, infographics…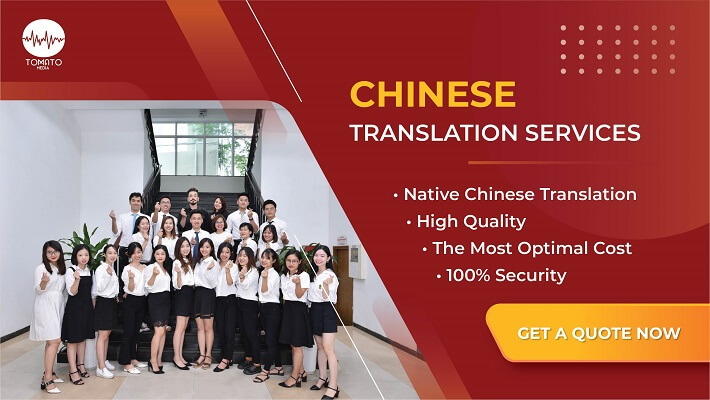 High-quality Chinese translation with a variety of specialties and fields
Not only providing diverse forms of translation and interpretation, Tomato is also capable of performing Chinese translation for more than 100 specialties and fields, below are some typical fields:
Mechanics

Automotive Engineering

Engineering – Production

Power, electronics

Ecommerce

Finance – Banking

Medical – Pharmaceutical fields

Post and Telecommunication

Cosmetics


Marketing

Media – Entertainment

Tax

Import and Export

Accounting and auditting


Construction

Environment

Energy – Oil & Gas

Education and training

Information technology


Hotel – Tourism

Agriculture

Garment, Fashion


Law, Regulation

Transportation…

In addition to Chinese, we also translate many other languages. See now the languages that Tomato provides translation services.
Check out the high-quality Chinese translation price quote of Tomato
Chinese translation costs at Tomato Media are optimized with excellent quality services:
Tomato received the award "Excellent Product – Service 2021"
Tomato applies a globally recognized ISO 9001:2015 certified quality management system
Tomato entered the top 150 LSPI – the world's largest translation and interpretation companies rankings
The following is a price quote of high-quality Chinese translation services recommended by Tomato Media:
Price quotes are optimized with excellent service quality

*** Price quote is for reference only
| | |
| --- | --- |
| Form | Price |
| Translation of documents and personal papers in Chinese | 60.000 VND/Page |
| Normal Chinese document translation | 70.000 – 140.000 VND/Page |
| Notarized Chinese translation – Private Notary Office | Translation fee + 65.000 – 80.000 (VND/Version} |
| Notarized translations – Legal Notary Office | Translation fee + 120.000 – 160.000 (VND/Version} |
| Relay interpretation of Chinese seminars (2 working hours – 1 interpreter) | 3.685.000 VND |
| Relay interpretation of Chinese seminars (4 working hours – 1 interpreter) | 5.555.000 VND |
| Relay interpretation of Chinese seminars (8 working hours – 2 interpreters) | 7.315.000 VND |
| Chinese conference cabin interpretation (4 working hours – 1 interpreter) | 10.945.000 VND |
| Chinese conference cabin interpretation (8 working hours – 2 interpreters) | 21.725.000 VND |
| Chinese language localization (websites, apps, software, games, etc.) | Contact |
| Chinese media translation (recording, dubbing, voiceover, subtitle translation, audio transcription, …) | Contact |
Note: For normal Chinese documents, 1 page is generally estimated to be about 300 words, the pricequote will change depending on the number of words on 1 page. For a specific Chinese translation quote for you, please contact us immediately.
The reasons you should choose Chinese translation service in Tomato
All forms of Chinese translation at Tomato company have won the trust of more than thousands of partners by the following factors.

Tomato received the award "Excellent Product – Service 2021"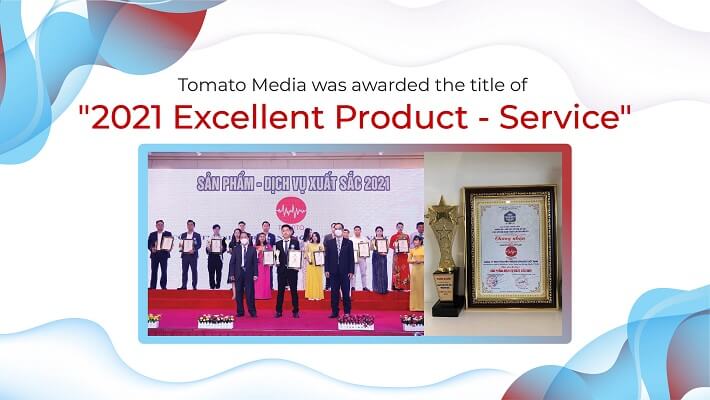 Tomato Media entered the top 150 LSPI – the world's largest translation company rankings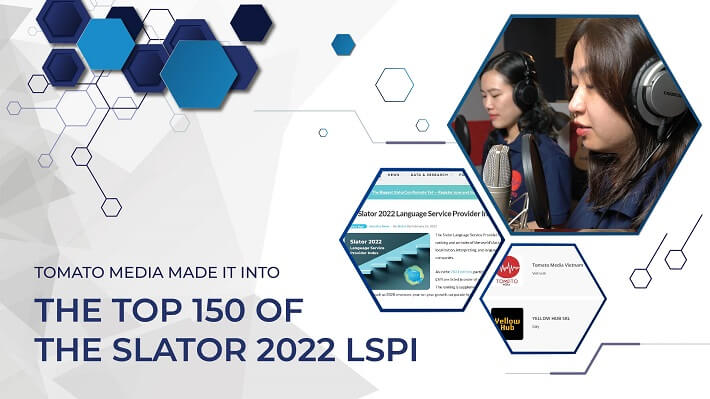 The team of translators with many years of experience

Tomato's Chinese translators all have bachelor's degrees or higher of international standard foreign language certificates, with a minimum of 4 years of experience in the industry. Many experts have lived, studied and worked in China, Taiwan or Hong Kong for many years.

High quality, certified ISO 9001:2015 QMS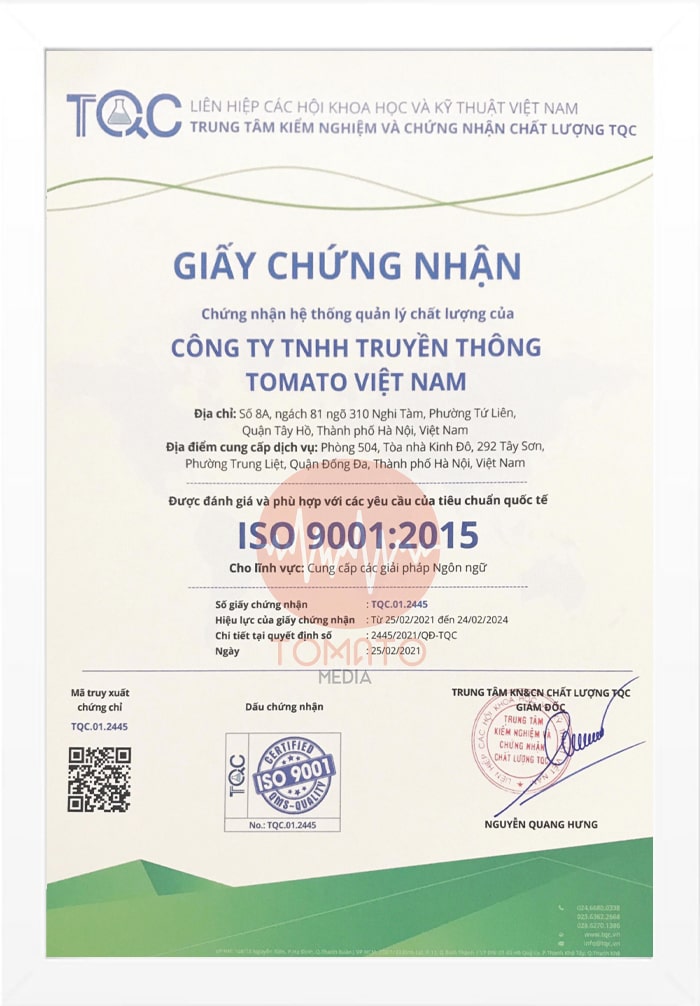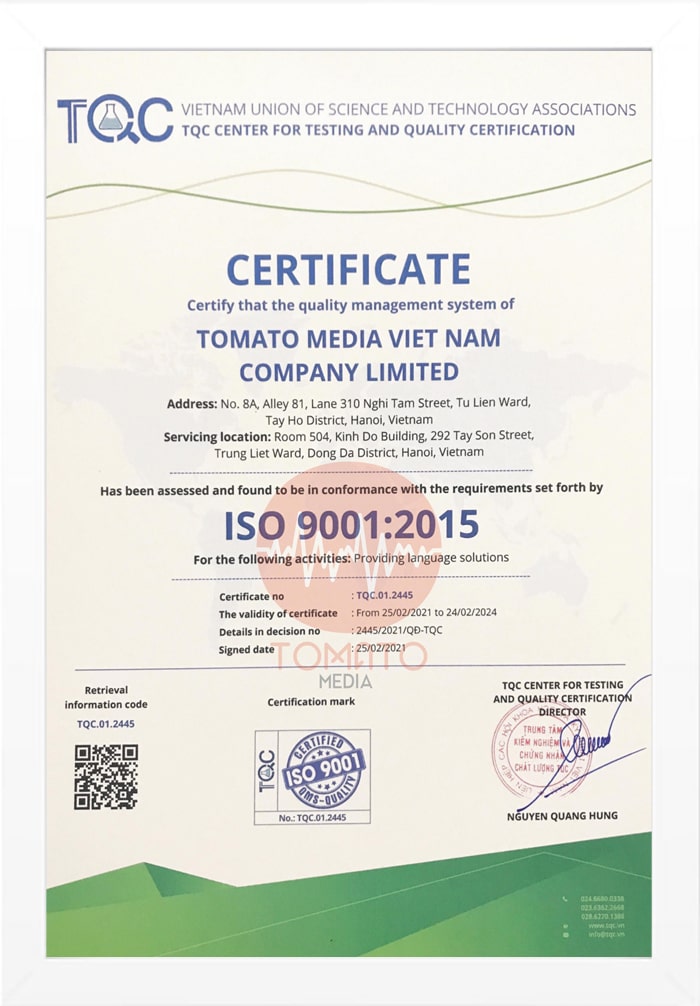 Professional demeanor, punctuality

With a translation speed of more than 20,000 words/day, Tomato is capable of completing many translation projects in a short time, ensuring 100% of translations are delivered on time.

Regarding translation, we commit that interpreters participating in the project are always 15 – 30 minutes early before the meeting takes place.

Rights protection service brings the highest satisfaction

For interpretation services, before proceeding with the project, we will let the client check the interpreter's qualifications and ability first.

For translation services, within 72 hours after handing over, if the partner finds errors, Tomato will still support and correct them completely free of charge.

Maintain absolute confidentiality of all project information

Based on customer's request, we will keep project information confidential by NDA contract. Without the consent of the partner, Tomato absolutely will not disclose information to any third parties.

Cost-saving with reasonable price quotes

Based on the needs of the partner, Tomato will calculate the appropriate detailed cost according to the clearly listed price list, ensuring translation quality according to standards while providing the best cost for customers.

Current achievements

After more than 5 years of establishment, Tomato now has offices in three countries including Vietnam, Thailand, Indonesia with over 100 specialists and more than 3,000 collaborators around the world, with many achievements such as:

More than 65,000 translation projects

Over 2,431 hours of recording and dubbing

More than 4,722 hours of interpretation

More than 1 billion translated documents…

Latest requirements for Chinese translation services in Tomato
Chinese translation

"Hello, I need to translate a total of 16 documents, which are similar in content and length, I need to translate into Chinese (traditional) this week."
"Good evening, I need the attached document(1000 words) to be translated from Vietnamese to Chinese by Friday."
"I need a translation for a text from Vietnamese to Chinese, the language used is not technical, just casual."
"I need to translate 17 documents, each about 100 lines from Vietnamese to Chinese. How much could the price be and how long would it take?"
"I will provide a short registration letter, written in Vietnamese, of 257 words (including address). I would like to receive the same document written in Chinese."
"I have a Chinese text of about 350 words, please give me a quick quote"
…
Chinese interpretation

"Hi, I need an interpreter to interpret a trade negotiation with a Chinese national. Best regards!"

"We need a Chinese to Vietnamese interpreter to attend a seminar related to our industry: Industrial Valves"
"In the upcoming international exhibition event, we need an interpreter who can interpret from both Vietnamese and Chinese languages, who is knowledgeable about electronics"
"I need a Chinese language interpreter for about 2 hours to discuss the legal issues after the divorce"
…
Chinese website translation

"Translation of a website in finance (550 words)"
"I need to translate my entire company website – display after publishing the website – I am looking for a fair quote with good quality."
"We are looking for a translator of native Chinese with experience in medical-scientific translations. The text is about 5000 words long. Please attach quotation and email to ……@gmail.com."
"Hi, I am requesting translation of 100 pages of comics for a non-profit website. 0 to 6-7 sentences each page, usually short and with pictures. There should be no need for precise or overly detailed translations, but at least a rough outline of each sentence on the pages."
"Hello, we are a new non-profit association and we need to translate the text of the website into Chinese by Sunday, June 21. We ask for your support to get China join the project."
"For the Vietnamese-Chinese translation on the doctor's office website, we are looking for a translator of native Chinese with experience in medical-scientific translations. The text is about 5000 words long. Tell me the price per word."
"I need the translation of a website that will be used to provide web marketing, web design, graphics and printing services exclusively to Chinese customers residing in Vietnam"
…
Chinese translation of an article

"Hi, I need a translation of an article from Chinese to Vietnamese by this Saturday (January 22). The article is historical in nature and is about 6 pages long."

…
Chinese game localization

"We are looking for a translator with at least 3 years of gaming experience to localize the game application from Vietnamese to Chinese."
…
Chinese translation of 1 chapter

"Translation of an "One-Shot" chapter with a total length of 25 pages."
…
Cantonese, Chinese translation

"Hello, I need translation from Vietnamese and English to Cantonese – Chinese for a text of 520 words, I am waiting for a quote and time frame. Thank you"
…
Instant notarized Chinese translation

"I have some personal papers that I want to translate into Chinese with notarization for urgent purposes, please notify me soon, I live in Cau Giay, Hanoi"
"I want to notarize my Chinese identity card, I need to have it at 3pm tomorrow at the latest"
"I want to notarize my household registration book from Chinese to Vietnamese in Ho Chi Minh City, give me a quick quote"
……
If you have any requirements for Chinese translation, please contact Tomato immediately or leave information for us to support as soon as possible.
Frequently asked questions about Chinese translation
Chinese Translation: Do you understand this language?

The written form of Chinese is one of the oldest languages ​​still in use today, if not the oldest.
Unlike most languages, Chinese is a non-phonetic language rather than a phonetic language: each character represents a concept, not a sound. The kanji has evolved over the centuries and has become increasingly abstract.
There is no exact data on the number of Chinese characters, but there must be more than 56,000 characters. Of course, most of them are no longer in use. They are especially found in old manuscripts. In general, 3,500 characters meet 99% of communication needs.
What are the reasons not to use automatic translator when translating Chinese?

Automated translators can certainly be useful when you need to quickly figure out the general meaning of a text, such as when you want to understand what a foreign customer is saying to you in the email he sent.
However, automatic translation does not involve translators or linguists. The automatic translator simply searches a huge database for a sentence similar to the sentence to be translated and accordingly makes the translated sentence closest to that sentence. It's impossible to tell if the autotranslator's suggestions are correct, or even if they were written by a native writer. Therefore, it is very likely that the translation has serious errors in grammar or meaning. Furthermore, these systems do not provide any confidentiality or guarantee of quality.
For example, Google Translate is used to perform translations of texts it finds on the Internet. But everyone knows that Websites are full of errors of all kinds.
This is why it is important, regardless of the type of document, especially for official or public documents, to use the services of a translation agency that guarantees quality and fidelity in accordance with original text.
Why? Mainly for the following reasons:
An automatic translator does not guarantee the quality of the text

Although it has improved over the years, automatic translation is still not of optimal quality. Language is complex and constantly changing, so it is difficult for a machine to interpret all the nuances of human communication.
If you've ever used an automatic translator to translate a text, you've certainly noticed that the results are often confusing and full of grammar errors, as well as many other errors.
Automatic translator does not understand synonyms

Synonyms are a big problem for automatic translators, which has great difficulty in interpreting the meaning of a term in context. Such errors can lead todisastrous consequences.
The technical aspect is an obstacle for automatic translators

Often, technical or specialized translations use terminology or jargon that the automatic translators have great difficulty rendering correctly. Solid knowledge and even practical experience in the field is essential to be able to accurately translate texts using appropriate terminology in the target language.
A machine cannot compete with a professional translator with qualifications and experience in fields like law, medicine, etc.
A poor Chinese translation can damage reputation

A poor translation can damage the reputation of famous brands and cause customers to stop buying your products or services. As a result, many mobile applications have failed in certain markets because their translation is very poor and improper. Therefore, before using an automatic translator, it is important to know what the text is for and how it will be used.
What are the challenges when translating Chinese?

Chinese is a very complex language. It consists of 85,568 central letters and 370,000 words. Each central letter is usually composed, that is, made up of, the concatenation of two characters (semantically and phonetically different), or even three characters.
Therefore, in order to translate a text into Chinese, it is necessary to know the semantic and phonetic characters of the written words, as well as their many combinations, in order to determine the correct translation.
To read or write Chinese characters, you also need to memorize each stroke, which is not easy when you know that a central character can consist of up to 64 strokes. While computers simplify writing, there is no other solution than learning all the letters to be able to recognize them.
Where can I entrust my Chinese translation?

Due to the above difficulties, Chinese translation is indeed a challenge and it is best to entrust an expert in Chinese translation in Tomato, who can guarantee the quality and accuracy of the translated text.
Tomato with standardized quality according to ISO 9001: 2015 as well as many achievements and awards for dedication in the field of translation will ensure that your translated content to and from Chinese and is of the best quality.
Tomato Media Company – Reliable Chinese translation

Address:
Hanoi Head Office: Room 504, Kinh Do Building, 292 Tay Son, Trung Liet Ward, Dong Da District, Hanoi, Vietnam
Bangkok Branch: 362 Krungthep, Nonthaburi 2, Bangkok, Thailand
Jakarta Branch: 12th Floor, Wisma 46 Tower, Karet Tengsin, Jakarta, Indonesia
Website: tomatotranslation.com
Email: info@tomatomediavn.com
Hotline: 0938 596 333