English Translation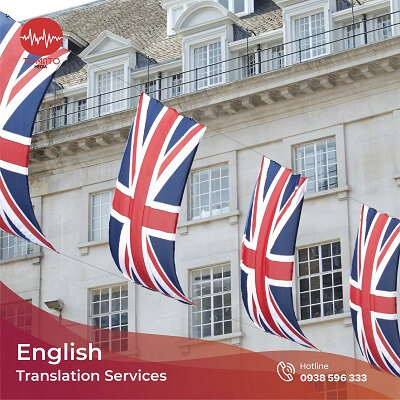 English Translation Service in Tomato – Professional – Accurate
---
Tomato's commitments:
📗 Accurate British – English and American – English
📗 Fast, smooth flow
📗 Absolute confidentiality
📗 Reasonable and transparent costs
📗 Quality standard ISO 9001: 2015
---
Main services:

Other services:

English localization

English Media Translation
Accurate English translation requires understanding of the differences between British English and American English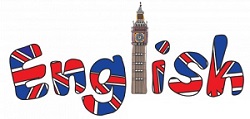 Multi-language and multi-specialty English translation services at Tomato are catching up with the current globalization development. At Tomato, we have a team of translators who are experienced and knowledgeable in both British English and American English, bringing translations as close to 100% accurate as possible. Some of the differences between British English and American English are:
Pronunciation:
Taking 'water' as an example, the British pronunciation is /ˈwɑː tə / American pronunciation /ˈwa dɚ/
Spelling:
The word Color we are familiar with is Colour in the UK.
Word:
In English, is Trash always Trash?
Trash and Garbage are often used in the US and Rubbish is often used in the UK.
English translation service at Tomato Media is a great choice
If you need translation, register now with Tomato. Currently, Tomato Media provides all English translation services, which are:
English document translation
Notarized English translation
English media translation (recording, dubbing, subtitles, …)
Native English Interpreter
English localization (website, game, app, video, …)
1. English document translation
Tomato Media takes on English translation jobs for all types of documents, from personal documents to business documents, ensuring accuracy close to 100%. All information in the translation is absolutely confidential, without any leaks. The types of documents we receive for translation include:
Company documents, including:
Business profile,

Business license,

Investment License,

Import and export documents,

Financial documents,

Contract,

Financial reports,

Bidding documents

MSDS documents,

Design drawings,

Documentation of machinery and equipment,

Translation of media publications,

Receipts,

Marketing, advertising,

Income and expenditure slips,

Construction permits…
Translation of other documents:
Dissertation,

Academic papers,

Book,

Journal,

Professional document,

Training materials,

Correspondence,

Narration…
| | |
| --- | --- |
| TOMATO MEDIA has a globally recognized ISO 9001:2015 certified quality management system | Team with 5+ years of experience, expertise, and dedication  |
2. Notarized English translation within one day
Notarized translation of personal documents including:
Birth certificate,

Citizen ID,

Household registration book,

Passport,

College degree,

Merit,

Language certificate,

Marriage – divorce certificate,

Salary – pension book,

Transcript,

School profile,

Tax returns,

Judicial Records,

Driving License,

Profile for studies abroad,

Visa application form,

Medical records,

Testament,

License of invention……
3. High quality English media translation (recording, dubbing, subtitles)
Media English translation is one of the key services at Tomato, which is highly appreciated by many customers. Currently, we are providing native standard Media translation services such as:
English recording

Voiceover

English subtitles translation

Narration in English

Film and video translation

Audio and Video transcription

English script translation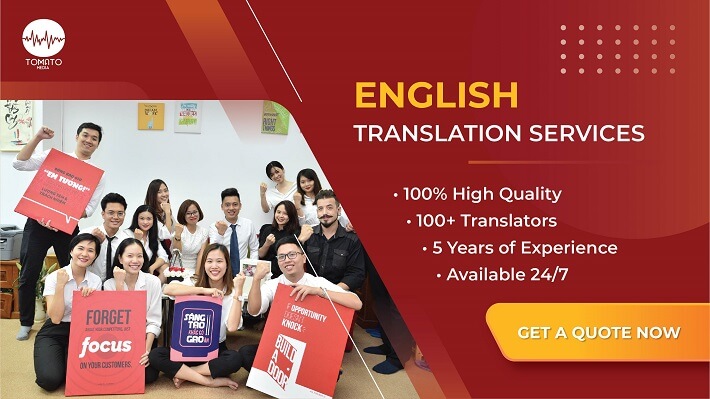 4. High-quality English interpretation, native standard
English interpretation services at Tomato are highly appreciated by many customers.
On-site interpretation from English to Vietnamese and 49 other languages

English project interpretation

Remote English interpretation

English interpretation over the phone, online interpretation

Parallel and consecutive interpretation

Accompanying interpretation

Interpretation in factories – workshops

English interpretation at fairs and exhibitions

English interpretation at fairs and seminars

Interpretation for business negotiation

Court interpretation,…
5. Professional English localization
English translation with localization service provided by Tomato is the choice of many corporate customers.
English game localization

Foreign app localization

Software localization

Website localization from English to Vietnamese or 49 other language pairs

English video localization
We offer free advice and support 24/7, so customers can contact us whenever needed.
| | |
| --- | --- |
| TOMATO MEDIA received ""Excellent Product – Service 2021" award | Prestige 5+ years, good expertise, dedicated |
Multi-specialty English translation at Tomato Media
At Tomato, we do multi-specialty translation:
Agriculture
Information Technology (IT)
Economics
Garment
Construction
Medical – Pharmaceutical fields
Hotel, Tourism
Media & Entertainment
Life sciences
Finance – Banking
Ecommerce
Engineering – Production
Electronic
Automotive Engineering
Marketing
Mechanical field
Environment
Energy – Oil & Gas
Juridical field
Education and training,…
Tomato translates English – Vietnamese and 49 other popular languages
At Tomato, we provide translation services from English to Vietnamese and vice versa, and in 49 other popular languages ​​such as:
English – Vietnamese

English – Japanese

English – Chinese

English – Korean

English – Thai

English – French

English – Italian

English – Taiwanese

…
Tomato offers a lot of popular languages for translation. You can register directly on the website or contact the hotline or email to register for the service.
What determines the price and how much does English translation cost?
Professional translations work for your quality, goals, growth and success. There is no place for the word 'random'. High-quality translations are the result of work from professional English translators. The costs of English translation works depends on many factors.
For example, you should consider whether you will need an English-Vietnamese interpreter or an English interpreter working in tandem with another foreign language interpreter. Another important question is whether you need someone who is both a translator and an expert in a certain field or subject.
You also need to consider:
The word count of the English translation.
Fast translation – at Tomato, it's easy for professionals to provide translation services for clients quickly. Remember that prices for fast translation here are higher than for standard delivery time.
Other special services.
When you need a translator from English to Vietnamese, you can ask professional translation Tomato Media for a quotation. You will receive information quickly, because Tomato Media values ​​your time!
Take a look at the price quote for high-quality English translation services at Tomato
The cost of English translation at Tomato Media is optimized with excellent service quality:
TOMATO MEDIA received ""Excellent Product – Service 2021" award
Tomato Media is in the Top 150 of The Slator 2022 LSPI
The following is a price list of high-quality English translation services recommended by Tomato so that you can get an overview of the costs for high-quality translation services.
Quotes are optimized with excellent service quality
*** This price quote is for reference only
| | |
| --- | --- |
| Form | Price |
| Translation of documents and personal papers in English | 75,000 VND/Page |
| Normal English document translation | 60,000 – 120,000 VND/Page |
| Notarized translation – Private notary office | Translation fee + 65,000 – 80,000 (VND/Version) |
| Notarized English translation – Legal Notary Office | Translation fee + 120,000 – 160,000 (VND/Version) |
| Consecutive interpretation of English seminars (2 working hours – 1 interpreter) | 2,915,000 VND |
| Consecutive interpretation of English seminars (4 working hours – 1 interpreter) | 3,685,000 VND |
| Consecutive interpretation of English seminars (8 working hours – 2 interpreters) | 5,555,000 VND |
| English conference cabin interpretation (4 working hours – 1 interpreter) | 10,945,000 VND |
| English conference cabin interpretation (8 working hours – 2 interpreters) | 21,725,000 VND |
| English localization (websites, apps, software, games, …) | Contact |
| Media translation (recording, dubbing, voiceover, subtitle translation, audio transcription, …) | Contact |
Note: For a normal document, 1 page is generally estimated to be about 300 words, the English translation quote will change depending on the number of words on 1 page. For a specific quote for you, please contact us immediately.
What do you get when using English translation services at Tomato?
Coming to Tomato Media, you will certainly be completely satisfied with our English translation service because we are committed to a number of points such as:
Accurate and smooth English translation
Tomato editors have a lot of experience in handling English documents and videos. Our translation is accurate in terms of vocabulary and grammar, with smooth style, and fully captures the depth and meaning of the original text. For specialized documents in particular, such as medical documents, machinery and equipment docs, we always ensure up to 100% accuracy.
Tomato received "Excellent Product – Service 2021" Award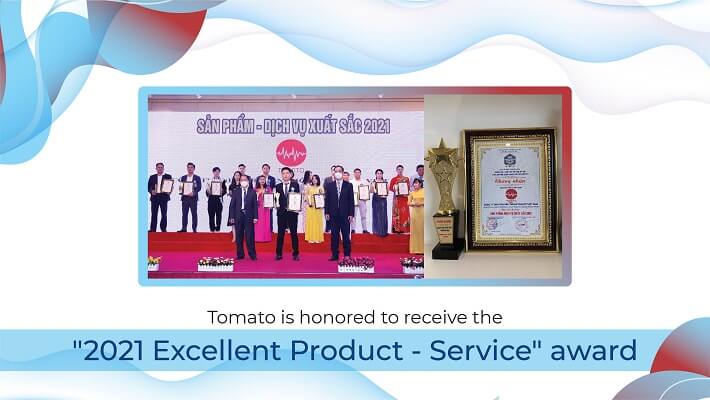 Tomato Media made it into the Top 150 of The Slator 2022 LSPI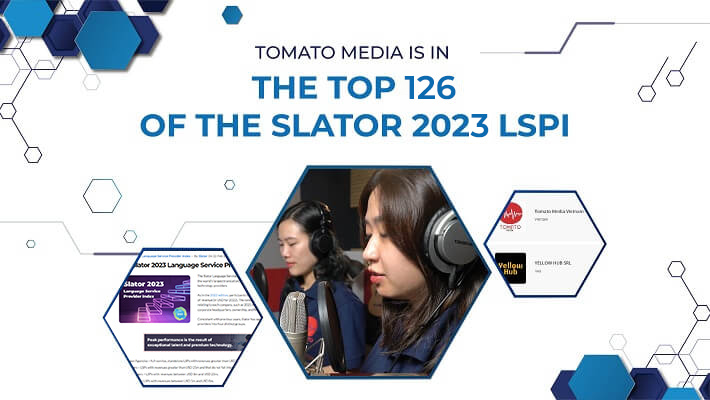 Short translation time, instant translation support
Tomato has more than 100 full-time employees and 3000++ collaborators globally, thus we can handle a large amount of work in a short time. If the client's document has many sets, we will have a deadline for each set, this helps the customer to keep a close eye on the translation process.
Accurate British- English and American – English translations
English translation includes 2 types: British – English and American – English. These two types ​​have many differences, thus without enough attention, it is easy to make mistakes. We understand this very well and are capable of accurately translating the two types ​​mentioned above, providing customers with the highest quality translation documents. 
Quality management system certified with international ISO 9001:2015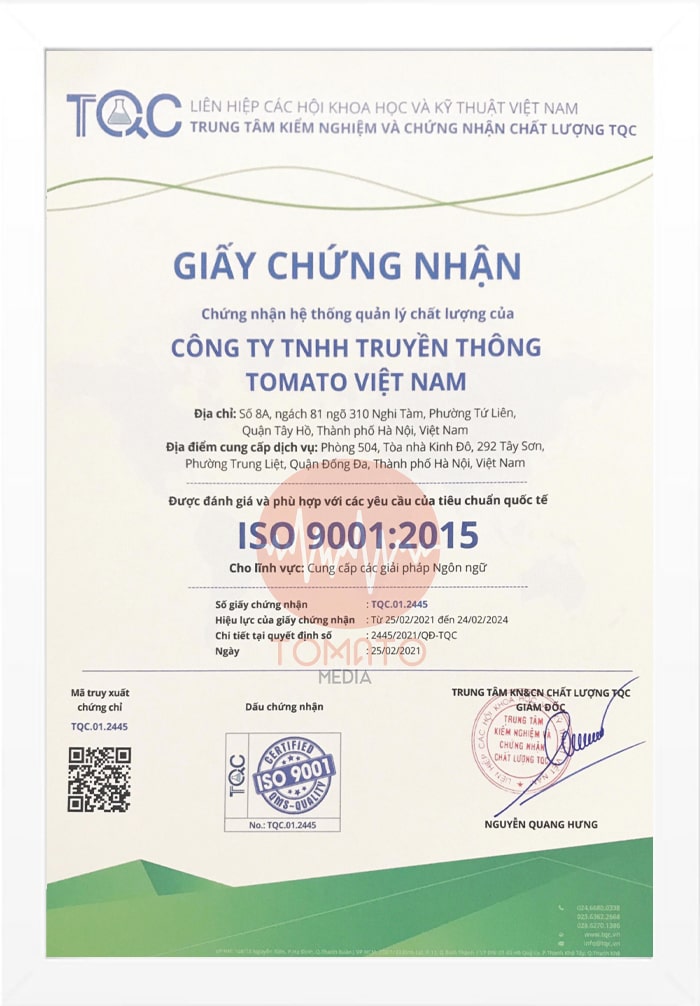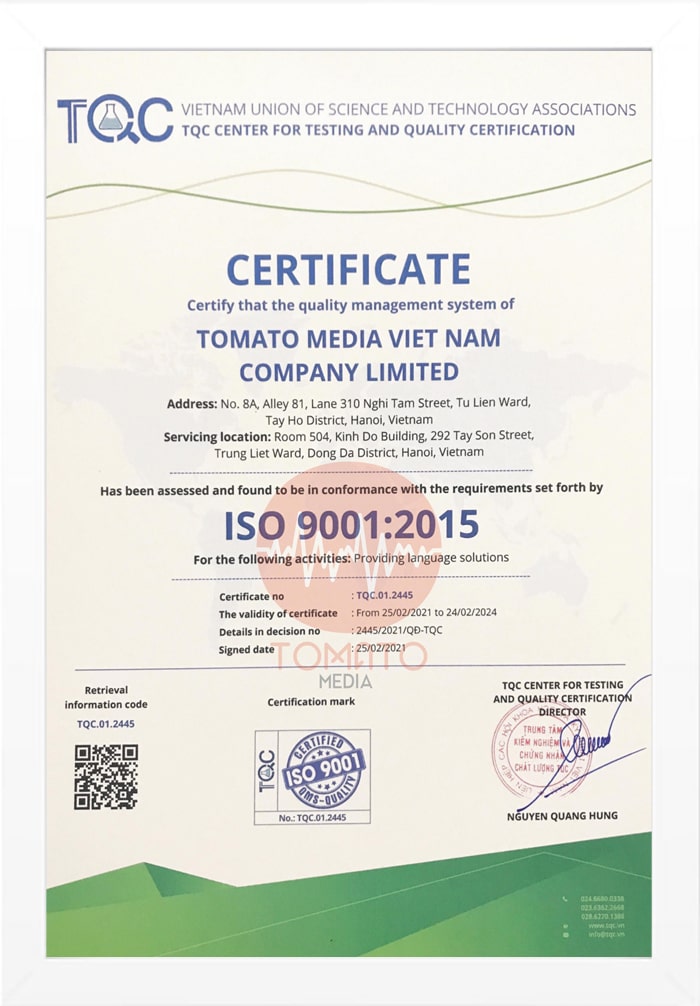 Documents, customer and partner information are absolutely confidential
Personal papers, company documents absolutely cannot be leaked out. At Tomato, we are committed to the confidentiality of the data source for our customers and are ready to take responsibility before the law if any trouble occurs.
Appropriate translation costs
The costs of translation are calculated in detail based on the market price, the complexity of the document and the time it takes to complete. We will quote the price right from the beginning so that customers can consider and review. This price will be written directly into the contract, so it will ensure no additional costs later. Compared to the quality of the translation outcome, the prices at Tomato Media are currently very favorable.
Bringing satisfaction to more than 2,500 partners
During the past 5 years, Tomato Media has continuously improved and enhanced its English translation efficiency. So far, we have worked with more than 2,500 partners, translated 65,000 projects with over 1 billion pages of documents. 99.9% of customers are satisfied and ready to return to use the service for the next time. Some big partners of Tomato Media can be mentioned: Vietnam Airlines, Panasonic, Microsoft, H&M, Samsung, Honda…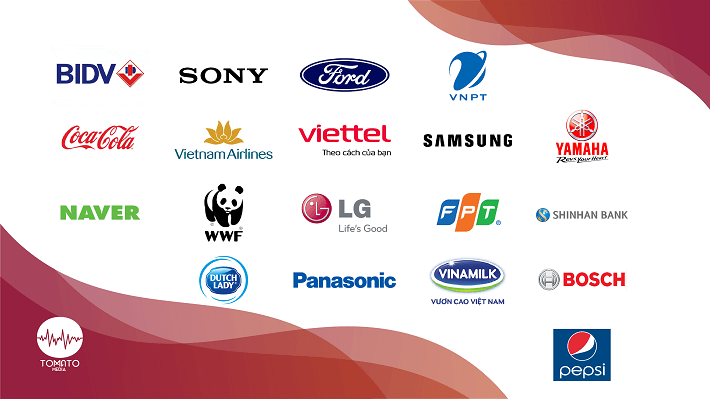 The demand for English translation is increasing in line with the trend of globalization
Since the economy opened up, it has become inevitable that Vietnamese enterprises cooperate with foreign enterprises and sell products to Europe and America. Therefore, the number of English documents that need to be translated is huge.
In order to meet the job requirements, many businesses have started recruiting staff who are good at English. However, these staff mainly use English for communication only, their level of English writing is at limited level. For complex documents with many jargons, sometimes internal human resources cannot translate.

In addition, many companies do not have personnel specializing in English translation because translation-related jobs are spontaneous, irregular and non-continuous. Recruiting full-time English personnel will cause businesses to lose regular unnecessaty monthly wages.
Therefore, businesses need to find professional English translation services like Tomato Media. This helps businesses' documents to be translated quickly, ensuring high accuracy.
Frequently asked questions about English translation
Why do I need English translation?
Better communication with business partners:
Only a professional translator can guarantee you consistent and understandable communication with your business partners abroad. Translating legal and commercial documents from English to Vietnamese and vice versa is a delicate processthat only a reliable and professional language service can handle for you.
Contact us for more information about our services, how we work, and how we can help you strengthen your relationships with business partners and expand your international network.
The most important publications are usually in English:
Whether you need it for research or simple personal information, scientific and technical translation of articles in economics, medicine and information technology can only be handled by a specialized English – Vietnamese translator.
The information and entertainment sectors are also dominated by English:
The best way to make a video in English accessible is to use Vietnamese subtitles. Translating subtitles, voiceovers, dubbing, etc. from English to Vietnamese are services provided by Tomato.
Why is professional English translation still necessary even though so many people know the language?
Short answer – Because average knowledge of the language is only enough for important average issues. As a professional English translation company that also provides online services, we can guarantee the highest quality of service!
You can buy a ticket to another country, but you will not be able to conquer that new market. You can read a scientific journal in English, but you will not fully understand the content that a PhD in America conveys. This is the point that distinguishes the basics from perfection.
Tomato has impeccable English translation service, always with high quality, when understanding British English, American English or Australian English is necessary. Tomato translation agency is the guarantee of the premium translation you need.
Each language is a separate universe of concepts and ideas. Each is independent, separate from the rest and can be studied for decades. Thanks to us, you don't have to study it or worry that your text has the correct meaning or not. We can provide you with expert translations in different fields, industries and topics, helping you to tackle your business or interest.
How long does English translation take?
We set a deadline before we start working on the documents. As a rule, about 8 standard pages (English – Vietnamese) can be translated in one business day, assuming that one page is 250 words. We can also do it in an explicit mode, on separately agreed terms.
The most popular English translation services?
The most frequently performed orders are English – Vietnamese translation: English document translation; notarized translation; website translation into English; DTP – graphical processing of documents; English language interpretation – simultaneously and consecutively.
Can I order an urgent English translation?
In addition to fulfilling orders in regular mode, we also offer express mode. We arrange all the details of the service according to the ISO 9001:2015 standard process. Shorter completion dates mean less time for individual steps of the process. We always strive to ensure the shortest possible delivery time. It is worth noting that the price of urgent translation will be higher than the normal translation price but will be listed and quoted by us before the service commences.
Do you have a quality guarantee for the English translation?
Of course. We have ISO 9001:2015 certifications, as well as professional liability insurance. We guarantee 100% confidentiality and are fully responsible for the highest quality of all processes and timely execution of each project, regardless of volume or complexity.
Can I have my own English translation price quote?
Yes. The English translation price quotation is an integral part of the cooperation agreement with the client and we always notify the translation price before the project is implemented. Each order is individually priced based on our price list, word count in the original document, language pairs and other aspects. To get a free quotation, simply send us the document you want to translate.
Tomato Media – Prestigious English Translation Service

Address:
Hanoi Head Office: Room 504, Kinh Do Building, 292 Tay Son, Trung Liet Ward, Dong Da District, Hanoi, Vietnam
Bangkok Branch: 362 Krungthep, Nonthaburi 2, Bangkok, Thailand
Jakarta Branch: 12th Floor, Wisma 46 Tower, Karet Tengsin, Jakarta, Indonesia
Website: tomatotranslation.com
Email: info@tomatomediavn.com
Hotline: 0938 596 333